.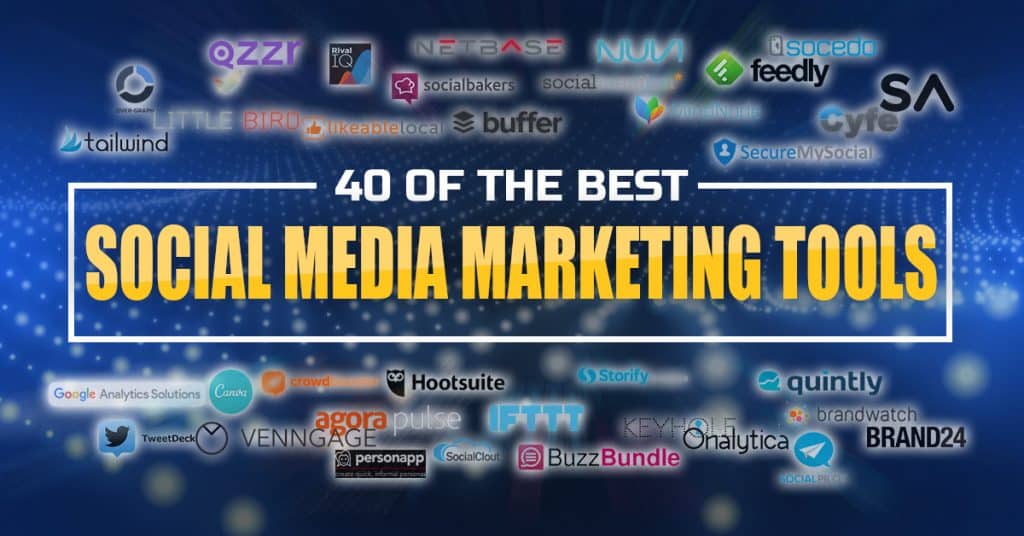 Before we talk about 40 of the Best Social Media Marketing Tools, Picture this: Miranda owns a small bakery in Tualatin, Oregon. She specializes in novelty cakes and wants to expand her business, but to do that, she needs to expand her client base. She has a vast network from previous work experiences, events and conventions in Portland, and so on, and she gets the idea to make use of social media in order to tap into that network and get word of her bakery out through word of mouth.
Social media sites have become a powerful marketing tool over the years. Whether your company is big or small, social media marketing can be an effective way to improve traffic to your website and increase the visibility of your business. The problem is, there are so many social sites now that it can be a challenge to juggle all of them at once, especially when you need to be active each day to keep your business visible to your followers.
Fortunately, there are social media marketing tools that can help schedule and organize your postings, ensure your posts are attractive and engaging and optimize your workflow overall. There are so many tools that it can feel like a jungle, but there's no need to be overwhelmed: we've compiled the forty best social media marketing tools for you to utilize.
Check Top 40 Internet Marketing Blogs to see how they are using the power of Social Media Tools.
Social Media Marketing Tools: Social Media Analytics
Analyzing your social media is a vital part of the marketing process. It gives you the chance to determine what is effective and what isn't and alter your strategies accordingly so that you're getting the most out of the time (and money!) you put into the campaigns

This is the best online marketing tool in general. Google Analytics has a wealth of data and a wide range of customization so that you can track the data that's most important to you and your business. It's also possible to set up goal tracking so you can see where and how your users are most often converting, which would make it extremely easy to see how your social media campaigns are benefiting your business.

One of the best social media marketing tools that operate in multiple languages. It will give you the opportunity to track enhanced engagement analytics across Twitter, Facebook, and Instagram. It includes a notification bar that alerts you whenever your pages and profiles have been mentioned by users across any of your linked social platforms.

With a fan base of over 18,000 users, HubSpot is one of the best marketing tools for a business owner to harness. By giving companies a chance to turn their cold leads through cold calls and cold emails into quality leads, HubSpot can be your one-stop destination for lead generation, and inbound marketing as a whole!
As if things couldn't get any better, HubSpot comes equipped with an incredibly easy to use interface, giving you the power to combine your social media management, marketing, and analytics in one place! Check out what they offer, and become a digital marketing expert with one of the best marketing tools around.

A free tool that will show you how many people posted with your hashtag, along with the number of retweets, likes, and the type of energy your campaign might be generating. Since this app will track the influential people using your keywords, it lets your reach out to them to further promote your content and increase your brand. Despite the fact that it offers complex data, it's a simple tool that's easy to read and share. Send a link of your dashboard to your colleagues and clients or download a printable PDF.

Optimize your decision making process based on visualized data, and find out which content works best in your social media strategy. This tool has a 14-day free trial, so how do you know it's worth the investment? Receive centralized social media analysis, track Facebook, Twitter, Instagram, and Pinterest. Connect with your Facebook insights and compare all your pages. Quintly lets you get tailored social media reports based on your custom dashboards, add any given metric, table, or chart to your reports.

Social Clout gathers relevant conversations and metrics from the social web, blogs, and forums. Be in charge of your industry and plan and run campaigns that help you generate leads. Make informed decisions concerning your social media marketing while gauging your progress. Analyze your competition and understand your social health.

Understand what's on track and what's not working for your content strategy using this tool. Think about your content as ideas and that merely need to be flesh, connect the dots with this visual experience for iPhone, iPad, or Mac.

Shift your focus on outreach and let this intricate tool do the influencer research for you. Little Bird will track metrics detailing the most prominent people who interact in your space and with your brand. The influencer list feature helps target qualified individuals throughout your social campaigns. Discover the most engaging topics and ideas, and let those comments and likes triple.

This is the ultimate choice when you want to track how your competitors are doing. It will track major social media platforms, prioritize growth, keep a record of your audience, and how the prospects shrink or develop weekly.  With Rival IQ, you'll have an insight of what is happening to your opposing brands, access to historical data, and the ability to compare growth rates to major events and business cycles.

This tool is a little pricey, ranging from $120- $480 USD per month, but its features include custom benchmarking and competitive analysis, allowing you to create groups that you can track yourself against. Social Bakers can segment data by individual brand and country. It will show you where there is room to grow.

Use this tool to guide your long term social media strategy. Along with the ecommerce data, you can track information from your social channels in a single interactive chart.

A unique social media marketing tool used by brands like Uber, Chevron, Nissan and more. It simplifies social media data reporting and monitoring so marketers can focus on shaping their social media strategy.

The best way to monitor your brand across the web and social media. It monitors a multitude of channels in real time to provide users with live updates about their brands and features.

If you have a big online presence, managing the data becomes a big problem. With Cyfe you can monitor and manage all this by use of a cloud-based service that will let you share all the important aspects of your business.

This Pinterest tool will let you optimize your Pinterest strategy and track engagement metrics as well as how your post performs on board keywords, hashtags, and categories. There is even Google Analytics integration, so you can analyze website traffic and revenue from Pinterest.

This social media marketing tool is the best in research suite. It provides information about the markets you want to enter, such as demographic data about gender and occupation. Monitor your brand's reputation in real time and see if users are posting positive or negative messages about you.

Discover what people are saying online about your brand. Brand24 offers a 14-day trial period for you to try out their service. Reach your customers fast, react and engage quickly to real time comments made about your company. Follow up on positive comments from your brand ambassadors, or respond promptly to dissatisfied customers before the story gets viral.
Social Media Marketing Tools: Social Media Managers
When you're managing a social media marketing campaign, you can be running upwards of five social media accounts daily. That's a lot for one person to manage, especially when you're no doubt juggling several other things: either other marketing ideas if you're a marketing manager, or the rest of the business if you're running the show yourself.
Thankfully, you're not alone. Below are some of the best social media management tools you can use to queue posts so they go live automatically and further manage your social media accounts so that you stay visible to your customers without having to stretch yourself thin trying to stay on top of postings.
You might want to look at the list of Top 50 Trustworthy Digital Marketing Experts.

The best way to drive traffic within the shortest time. It's a management tool that will let you create a post and get to schedule it for your Twitter, LinkedIn, Facebook, Pinterest, and Google+ Profiles. Also, offers some insights on your postings so that you can determine what's working and what's not, and its clean interface is extremely user-friendly.

It's said that this tool processes posts nine times faster and 50 to 70% more accurately than any other social media analytics tool. If you are a manager, NetBase will let you make quick decisions on large accounts that you are currently managing. It targets enterprise scale brands and agencies with millions of social posts in 42 languages and determines user sentiments regarding trends.

Social Pilot does all the heavy lifting in your social media marketing. Create more accounts and more posts, all at affordable prices. Using just a single account, you have the capability to share as many as 500 posts and content to up to 200 social profiles from a single account. Upload those posts at once in text or CSV format, add client profiles, and flaunt that brand on Facebook. This incredible tool will increase your brand visibility and at the same time help you in delegating team duties. How? You can share your social media calendar with the team, designate some members as contributors, and always be up to date with awesome posts.

The best lead generation tool of all time. This automated social media tool helps you find your target audience, engage them in just one click, and fill your funnel. The audience that visits your site is most likely in love with your product but did not make it to the sales funnel. Socedo brings such audience to you, and upon your approval, it automatically looks up their social profiles and engages them automatically on Twitter using a customized workflow. Socedo provides you with critical business insights into your customers and your engagement with social leads.

This tool supports Twitter, Facebook, Google+, LinkedIn, YouTube, forums, and blogs. Create and manage multiple personas for all the people you want to present. Schedule any number of posts or announcements for them to appear when necessary while hiding your location if you do not want to be detected.

One of the best social media marketing tools is outstanding from the rest because it's intuitive with a customized dashboard. CrowdBooster also makes recommendations about when to post and how to improve your interaction efforts weekly.

Unite your audience by keeping Facebook, LinkedIn, Twitter, and Instagram profiles and pages all at the same place. Once you edit your content, publish it only once to infinite accounts. Using a single interface, you can be able to manage all the conversations and comments at a glance. To turn that raw data into readable values, Over-Graph is the best choice.

Just like Buffer, HootSuite is among the best social media marketing tools. It allows you to schedule, track, and collaborate on your social media accounts. Its platform not only tracks standard engagement numbers but also measures your team's performance. It is the best choice for a large organization or agency.

If you're looking to manage your Twitter account, this is by far the best monitoring tool. TweetDeck allows you to post and schedule your Twitter accounts while streaming all your feeds in real time. Its upward compatibility with Buffer makes it even more useful. It's very flexible as it can be downloaded as a desktop software. It is fully accessible for free with no limits to the number of Twitter accounts used.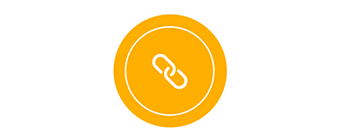 The best ally for all quality content owners. It's as simple as give a share, get a share. With just one click, you can share to multiple networks at once while having total control of where the content will go live. Reach that target audience on time without having to worry that you will flood their timelines.
Other Social Media Tools
Analytics and managers are only two of the many types of tools that can make your social media marketing that much easier. However, there are numerous other tools beyond those that can help you, from receiving alerts from Google when someone mentions your brand to creating infographics to go along with your posts.

This is a social media analytical tool that's free and allows you to discover which social sites are driving traffic and conversions. This app will always notify you when your brand or keywords are mentioned on news sites and blogs.

This cool app will match your usage of nouns in your content against an aggregate of what another blogger has posted on their accounts over the past twelve months. It's definitely more ideal than keyword searching as it shows what's big with the best digital influencers of your market. Get that competitive advantage to influence their networks and share your content with them in hopes they'll share it, too.

Never underestimate the power of keywords. IceRocket is a free tool that will help you rank the use of keywords. It will not only allow you track mentions of your blogs but also mentions of your social networks. Your task is only listing the terms you want to be mentioned, and you will get a report and a graph illustrating how many posts a day the terms appears in.

Ever hoped that all those apps that have become your favorite how they can be interconnected for you to optimize their performance? Well, this is the tool you've been looking for. IFTTT works with 132 channels that include social media networks and businesses like eBay and Best Buy.  It's all about creating powerful connections both online or off with one simple statement: if this, then that. This social media marketing tool has received praises from publications like Forbes, The New York Times, and Wired.

If you're looking to add a fun quiz to your site, Qzzr is for you. Customize your quiz's look to fit your website or layout. Create checklist and outcome quizzes with the option of adding images, text, and animated GIFs. Share your quizzes with the world, track your results, review stats, analyze responses, and export leads.

As the name suggests, it's a persona creating a tool that lets you visualize your audience. Create lightweight personas using a simple lean framework at your kick off meeting for a new project.  Personapp allows you to get involved with these clients without much friction. Validate your personas through the in-depth interview and later revisit them after your research to determine which traits can stay and which ones can go.

This is a social security tool that will notify you of any problems that may arise in the social media scene. It's a simple tool that will not interfere with your work and will regulate your business by tracking human risks and problematic material posted on social media. It uses a patent pending technology that scans its subscribers and alerts them of any threats that may harm them online.

This site will literally make you likeable to your prospects. Likeable Hub gives you access to thousands of content ideas and new posts. With this tool, you will share stories and generate leads and referrals while managing your reputation.

Organize, share, and read all the content that matters to you and your team in a single place. Follow the blogs of the latest movers, shakers, and thinkers. Monitor any news that may be touching on your company, product, craft, or competitors by plugging in Google Alerts. Feedly lets you organize all those feeds into an easy to read collection with a secure access to private content from your company's internal portals.

Add a comical spin to your content by using this content creation tool. It's an awesome site that lets you create memes that will generate leads and gain traction on the web.

Venngage was invented by Ross Simmonds, a digital strategist, and allows you access to infographic tools that are easy to understand. It's super versatile and intuitive, especially if you are into creating graphics for social media, SlideShare, or a presentation.

Beautify your posts by using this amazing tool. Design presentations, graphics for your social media platforms, and a lot more with the help of Canva. It has preset filters and photo editing tools to modify your pictures. Canva gives you the possibility to use icons, shapes, and other elements to create eye-catching graphics.

Engage your followers by use of eye catchy post. Create stunning social graphics in seconds that will give you an advantage over your competitors. It has hand-crafted, remixable design templates made for social sharing.
Though the world of social media marketing tools is big and overwhelming, we hope that this informational list helps take some of the pressure off and help you in figuring out what will work best for your business. There's something for everyone, regardless of your business, budget, and strategy.
Here are some best Pinterest Marketing Tools you should try.