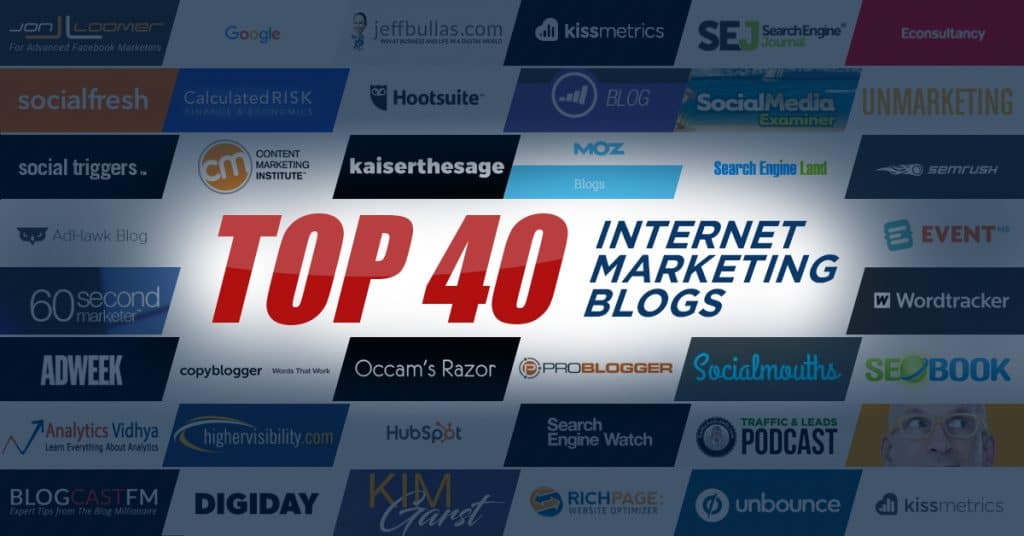 Top 40 internet marketing blogs you should start reading in 2022. When you're starting out in the internet marketing realm, there is A LOT to learn and marketing courses can take weeks, months or even YEARS to complete and can get to be upwards of $1,000. But now, in the age of all things internet, you can save all that time and money, by simply reading a blog on the subject you're interested in.
Depending on your niche of focus, blogs will open you up to a world of opportunities that are just a click away. However, the number of internet marketing blogs, social media, content marketing, email marketing and SEO blogging posts has grown so much, it can be overwhelming. Luckily, we have taken up the task to decipher the top 40 internet marketing blogs, so that you don't have to! 
Click here to check out a Big List of SEO Blogs. Now, look into our list of top 40 internet marketing blogs. We make this list after considering a lot of factors and the most important one is Alexa Rank of the websites.
List of Top 40 Internet Marketing Blogs
Content Marketing and Content Creation: 
One-Click Lindsey is one of the best emerging internet marketing blogs on the web. It covers everything from content creation to all aspects of digital marketing. If you REALLY want to explore and learn insider insights of the digital marketing world, it's a must-read blog!

We all look out for honest insights that answer our intriguing questions and provide bold insights on content marketing. This blog will definitely satisfy your curiosity if you are an influencer interested in digital marketing information. The sites' blog posts share in-depth industry knowledge and experiences and have a unique approach to brands, agencies, publishers, and platforms from novel angles.

I always feel like this was and still is the best blog ever created. This is because of the unique way the blog is posed. The posts have a conversational tone that humanizes the content and makes it easily understandable. It's an authoritative site, loaded with inbound marketing strategy, templates, infographics, analytics and landing page tips. In this content marketing blog, you will find posts covering SEO advice, sales, academy, web design and social marketing. It's a one stop shopping parlor that I recommend checking out.

An incredible thorough blog with a focus on data and metrics, with detailed posts about analytics and marketing and examples to back up any conclusions. With the frequent emerging SEO techniques, this is a great blog to check out because it publishes almost weekly. It offers detailed coverage from all angles on content marketing, SEO and analytics. It's one of the best internet marketing blogs. 

This company blog is literally a bank of knowledge. It is a diversified blog that touches on all aspects of content marketing and creation, spanning from extracting thought leadership from key company employees, lead generation and content distribution.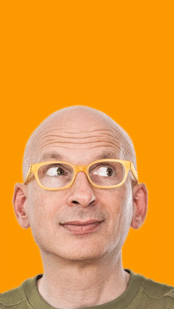 If you are familiar with the term "permission marketing" Seth is the brains behind that. He shares daily tips on marketing, and business creativity in his blog and posts that are thought-provoking, short and stimulating.

It's full of content marketing experts offering guidance and advice that will teach you how to create attractive content for your website that will retain customers. Its content covers content strategy and  SEO practices that are crucial for your success. It's not a blog to miss.
SEO Blogs:

It has been there for decades and it will never run out of style. It's always up-to-date, contains accurate information and is purely based on the latest trending news on Google. Consider leveraging Google Alerts to monitor what business news is being published. Create alerts for SEO search blogs so as to keep your ear out for new industry voices.

Aaron Wall is among the biggest names in the SEO industry. His SEO Intel is respectable and reliable. He posts about search engines updates that may affect your website rankings on search engine result pages as well as leading search company sites that are currently trending.

This mind blowing site is packed with thousands of articles! They post between 5-10 articles daily. This site has a wide range of bloggers who will ensure you do not miss anything in the SEO world. It contains videos, great comments and guest contributors, so you will get new voices and different discussions every time you visit the site.

This is a blog written and submitted by Moz users. It is SEO specific with it's leader, Rand sometimes engaging in symposia about search engine optimization. You do not have to subscribe to one Moz blog. Simply visit Rand's blog, Dev Blog, to access the top SEO voices in the industry.

This is one of my favorite sites based on its design and navigation. It revolves around topics like, search industry analysis and SEO tips and information, while providing support for the site subscribers. The content is published frequently and is always detailed. Search Engine Watch is also one of the best internet marketing blogs. 

This is one of the most popular SEO blogs. Its popularity is attributed to the fact that they are always the first to break news. It's a big content blog worth following, with daily updates. It's a global site with trending news and tips on search engine marketing and the search engine industry.

This is probably the only blog that focuses on the "What it means to you" aspects of everything SEO. It gives you the steps and information about the tools that you will need. It also gives in-depth descriptions of the meanings of terms that will help you improve your SEO.

It's not just about blogging with this site. It offers the best SEO site audit tools on the digital market scene. There is so much advice, tips and strategies from guest authors that will be very useful. It also provides plenty of tips on PPC and how to improve it and make it work for your success.

All the tips from this blog have been tested, thus providing you with a sure thing. There is also plenty of useful information about SEO practices, lots of advice and opinions that will help to enhance your internet marketing experience.
ONLINE MARKETING BLOGS:
17. Fit Small Business
Fit Small Business shares the latest small business marketing tactics, From Facebook and Google to more traditional advertising tactics. This blog share tips and strategies from hundreds of small business owners and marketing experts.

This blog serves as a credible source of information aimed at excellence in digital business, marketing and ecommerce. It also includes information from celebrated analysts and experts in the digital marketing realm.

Do you have interests in email B2B marketing, social media, and modern content? This is an educational blog that covers interesting topics and offers tips and advice on marketing automation, marketing strategies and lead management.

This is a must read site founded by the famous Brian Clark and Sonia Simone. If you are a consultant, publisher, freelancer, or a small business owner looking for compelling content on content marketing and copywriting, this is the blog for you. The topics range from non-gimmicky SEO, email marketing, landing pages, content creation and much more.
SOCIAL MEDIA:

One of the leading internet marketing blogs and a community center for the passionate social media users. It's the right place for social media tips and advice.

As a leading digital marketing expert and author of all sorts of articles and books, his blog is the best stop for all your social media marketing queries. He has helped several businesses with social media marketing problems.
Check out the list of Top 50 Trustworthy Digital Marketing Experts.

Derek Halpern saves you the hassle of going through social media marketing literature by providing the how-to's related to product profitability and persuasion. There are insightful tips on how to share valuable content to build your network and client trust.  Turn that traffic into subscribers, and encourage people to purchase your products by following this blog.

One of the best blogs on social media marketing brought to you by experts in the space. They update their blog on daily basis and share what's latest in Social Media and some cool case studies too. 

He is a Facebook marketer and entrepreneur who is eager to help with your Facebook adverts. The blog is updated daily with trending news and tips that will make you a better Facebook marketer and blogger.

Its content never get stale, helping you with traffic, engagement and conversions. A comprehensive site based on age-old principles carried through social media tools. It's simple and worth the sign up.

 With this blog, you will receive breaking news on social media trends in the world.

An advantageous social media platform that provides valuable advice and knowledge about social media strategy. It will help you improve your brand. Hootsuite is among the best marketing blogs and tools. 

An online community for marketers around the globe that provides tools, tips and tutorials on social media marketing. It was founded by Jamie Turner, the co-author of "How to Make Money with Social media.

So the online content about social media is a lot for you  and tiresome to scrutinize, yet all you want is a social media strategy that will drive the best results? This is definitely your go-to blog.

It provides the how-to's on improving your social media presence.
You might want to check 40 of the Best Social Media Marketing Tools.
ANALYTICS AND RESEARCH:

Avinash Kaushik, a marketing evangelist for Google, blogs about data-driven decision making and empowering ideas for companies to make evolutionary leaps in their strategies, in an extremely interesting way. He is the co-founder of Market Motive and the Digital Marketing Evangelist for Google. It's one of the best marketing blogs on digital marketing analytics.

Bill McBride is the founder of this amazing blog. With his background in economics, management and finance, he is able to blog outstanding sources of information on economics data and development.

Analytics Vidhya is one of the top influencer in data science & analytics industry. On this site you can find comprehensive blogs on different techniques used in Data Science, Machine Learning, Deep Learning and Big data. Follow this site for quick to understand & easy to digest content.
BLOGGING:

This is a good place if you are looking for an in-depth source on how to create content that captures the attention of customers. It covers all possible tips and strategies of blogging and content creation. Pro Blogger is also one of the best marketing blogs.
Focuses on website testing, conversion rate, website optimization services and blogging for both small and medium online businesses.

Enjoy unique posts on stats-driven marketers that live and breathe conversion rate optimization contents, landing page optimization and A/B Testing.

Run by Jason Acidre, this blog shares inspiring personal experiences with content marketing and search engine marketing. He develops competitive content strategies on topics that most people aren't experts in. Get most of your content with simple and useful advice on this blog.
INTERVIEWS:

Traffic and Leads Podcast is an online marketing podcast that interviews today's most inspiring digital marketing experts once a week. Past guests include Jeff Bullas, Seth Godin, Bree Noble, Keith Callahan and many others.

The most prolific resource of interviews from globally recognized bloggers, business owners, entrepreneurs and published authors.