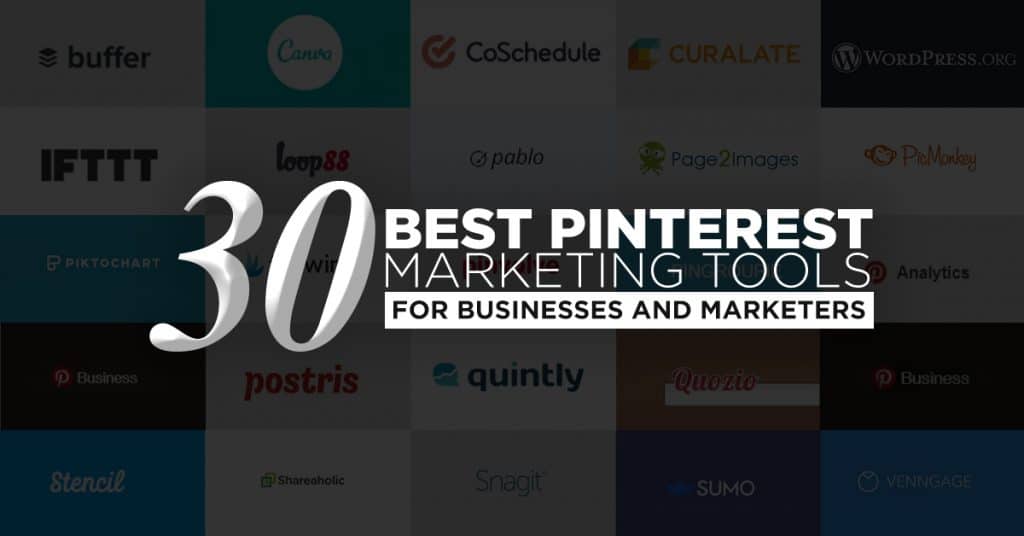 When it comes to social media marketing, it's no secret that everyone's hidden gem is the rise of Pinterest. When Pinterest first came onto the scene, many people didn't quite understand how to effectively use it for business and marketing reasons. However, with the right Pinterest marketing tools and the right idea, it's easy to find some of the best leads and conversions from Pinterest. How can you be sure that what you're working with is truly giving you the best results, though?
That's where we come in. That's right—I've searched the internet, and I've come up with the 30 best Pinterest marketing tools for you and your business! Whether it's tools you implement on your own website or ways to share your content across multiple sources of social media, you can be sure that these Pinterest marketing tools are absolutely going to get the job done and bring home results that you've been waiting for. Let's get started!
1: Venngage

When harnessing the power of social media requires images to get the job done, being able to create those images yourself is a huge part of the task. That's where tools like Venngage come in handy—Venngage is a software that allows you to create your own infographic! With a multitude of fonts, icons, pictures, and templates to choose from, your customization options are nearly endless with Venngage.
Being able to save and upload that infographic to Pinterest makes the job of finding interesting images easier. When you make your own, half of the job is done for you! It's affordable, easy to use, and definitely one of the best Pinterest marketing tools you can use to increase your creative presence.
2: Canva

Another amazing designing tool, Canva lets you create custom images to share across social media. With millions of stock images ready for you to use, Canva gives you a chance to create endless graphics, images, and inspirational ads for a variety of marketing reasons: to pair with an ad campaign, to accompany a blog post, or to post on Instagram and Pinterest as an encouragement to send people to your website!
Having a place where you can be creative in your marketing is one of the best things about using Pinterest marketing tools, and Canva is definitely one of a kind in its approach to digital editing with a fancy photo editing software!
3: SumoMe Image Sharer

An amazing app from SumoMe, a social media marketing tool for the best of the best, Image Sharer allows you to make the sharing of images across social media for both you and your customers insanely easy. You can choose where you want to share your image with options from Facebook and Twitter to the ever-growing Pinterest. From there, you can choose what kind of share button follows your image, making the act of sharing the image simple as can be for everyone else too!
Additionally, there are separate options for people who are browsing on a desktop and those who are browsing mobile, making sure that anyone from anywhere can take part in the image sharing required to generate some quality traffic! It's easy to see why this is one of the best Pinteresting marketing tools to use.
4: Buffer

One of the best overall social media marketing tools, Buffer is an all-in-one special for those who need a little bit more control over what they post and when they're posting it. With Buffer, you're in charge of all of your social media accounts from one main dashboard, making it easier to keep tabs on what you're posting, the response it's getting, and how often it's being shared by your customers!
This means that after you've made special graphics and edits that you wish to share on Pinterest, you can use Buffer to queue those posts for later dates! By giving you the upper hand in terms of Pinterest marketing tools, Buffer lets you engage more often without worrying about overflow or neglect of your social media accounts. Instead, you can focus on maintaining consistency and activity!
5: Rich Pins Validator

For those who might already be savvy with Pinterest marketing tools, you'll know what rich pins are. For those who don't, I'll explain; a "rich pin" is something you get when you collaborate with Pinterest business. It allows you to give more context to your pin and provides more information about the pin when it's shared and posted to your website! Therefore, having a Rich Pins Validator seems like the next logical step!
The Rich Pins Validator allows you to create unique links and URLs for your Rich Pins that you can share on your website, Shopify, and more! With the power of a more informational pin and a way to share those pins to different platforms and social media accounts, you're using the power of Pinterest for social media marketing in a whole new way!
6: Tailwind

A marketing tool that's designed specifically for Instagram and Pinterest, Tailwind lets you combine both of your accounts into one area, making it easier to manage them both! Since Instagram and Pinterest both have a primarily image-based functionality, it's easy to see why combining your accounts in the same place makes for amazing Pinteresting marketing tools.
By queueing posts, analyzing and monitoring comments and conversations between customers on your posts, and measuring those results to make sure the content you're producing is what your target audience is looking for, Tailwind is a powerful tool that lets you master your Pinterest marketing.
7: Share As Image

Part of Stencil's amazing package is Share As Image, another amazing image creator and editor that allows you to make your own graphics to share across social media, Pinterest included! With millions of stock photos, customizable fonts, and an easy-to-use interface that allows you to create exactly what you're looking for, Stencil gives you the best chance to combine what you already have with even more amazing aesthetics, making you stand out among the crowd!
With the option to upload your own images, too—such as a logo for your company—Stencil lets you get personal with your customization, making it one of the best Pinterest marketing tools you can use to create amazing images to share across social media.  
8: ViralTag

By allowing you to control the content you're sharing on social media, ViralTag is one of the best Pinterest marketing tools you can be using. Beyond scheduling posts throughout the week, you can customize the caption and content that goes with the images you're sharing! What you say on Facebook doesn't necessarily apply to what you'd say on Pinterest, and now you can edit what you want to say in the same place instead of manually doing it on your own!
ViralTag believes that good content should be shared more than once and also gives you the option to recycle older posts. With other options for custom image creation and sharing, ViralTag is one of the best places to share the images you create and design with the best people.
9: ViralWoot

What's better than a software full of Pinterest marketing tools? A software that's completely free to use! ViralWoot is a free social media tool that allows you to have complete control over your Pinterest and Instagram accounts with its amazingly easy-to-use interface. ViralWoot gives you the chance to promote your best pins by simply copying and pasting a link to share across platforms, making it easier than ever to curate the content you hand pick for the best results.
Additionally, you can also keep track of what's doing the best with ViralWoot's analytics, putting you ahead of the game when it comes to what's working and what could use some tuning up. Combined with the power of scheduled posting, ViralWoot gives you the most control over what you share, when you share it and how effectively your content is working, making it a must-have for social media marketers everywhere.
10: PicMonkey

Another amazing way to create and custom your own images, PicMonkey offers you a large selection of customizable tools that allow you to make your image look exactly the way you need it to. Your own canvas is open, and it gives you options to resize, add effects (that you can then carry over into pictures you upload in the future), and upload and store your logo in your Hub for future use. PicMonkey is incredibly engaging and easy to follow.
As if things couldn't get any better, PicMonkey also has a mobile app, letting you edit and upload on the go! PicMonkey also has an entire page of tutorials that teach you, step by step, how to create some of the best visual content, and how to get the best editing results with easy to follow instructions.
11: Coschedule

Marketed as the '"#1 marketing calendar" for businesses, it's easy to see why your Pinterest marketing tool belt should include CoSchedule. By giving your team one place to convene, plan, talk, and schedule content, CoSchedule says goodbye to spreadsheets and gives you a paperless way to connect with everyone in one easy place.
CoSchedule gives you the chance to schedule your posts ahead of time, while also giving your team a chance to look through what you've got, make changes as needed, and give it the full go-ahead before it hits social media! With that sort of collaborative effort, you can rest assured that CoSchedule is among the best for encouraging teamwork in the office.
12: Pinvolve

By combining what's arguably the most powerful social media platform with your Pinterest account, Pinvolve gives you the chance to combine your Facebook with your Pinterest account, making it one of the best Pinterest marketing tools you should be using! Pinvolve pulls your latest pins for easy sharing on Facebook, making them front and center with the click of a button!
With the "posts to pins" option, you can convert any post you've recently shared on Facebook to a Pinterest pin, which you can then share across other social media platforms with ease! With an additional option to automatically post your Pinterest pins to your linked Facebook account, it's easy to see why Pinvolve is a must-have for all social media marketers.
13: PinGroupie

When searching through Pinterest for the first time, it can be hard to find content that's relevant to what you're looking for. That's where PinGroupie comes in, a site dedicated to collecting Pinterest group boards—sorted by affiliation and subject matter—for your browsing needs!
For those wondering why Pinterest group boards are important, they're an amazing source of traffic for your brand and your website. Finding some of the best boards that include your target audience will easily help you build up more qualified leads! Its free use qualifies it as a must-have among Pinterest marketing tools, and navigating the site is easier than ever. Make sure you browse through soon to see what kind of connections you can make!
14: PinAlerts

It's hard to have a hand on your accounts at all times. Making sure that the content you're creating and sharing is being well received is the reason that content is so heavily focused when it comes to social media marketing. Luckily, one of the best Pinterest marketing tools revolves around giving you notifications every time someone interacts with one of your pins—PinAlerts!
Functioning similarly to Google Alerts, PinAlerts allows you to insert the URLs of the content you wish to track, and send you periodic emails based on the amount of interaction and engagement the post is receiving. This makes it easier to see which content is really viral, and what you could be focusing on during your content creation phase.
15: Page2Images

Sometimes it's easier to learn with images than it is with words, and Page2Images is one of the best Pinterest marketing tools to help you in that process! By simply typing in the URL to a website on their homepage, Pages2Images immediately brings back a screenshot of the homepage, both in desktop form and mobile form.
With this picture, you can edit it to your heart's content and share it across social media to accompany a variety of things—a blog post, an advertisement, or a 'how to' on using the site in question. Gathering pictures for Pinterest content has never been easier!  
16: Loop88

For those interested in an all-around marketing tool, Loop88 is the best of the best. They've been in the Pinterest marketing game since 2012, and their exclusive agency works hard to focus their social media networking efforts entirely into your Pinterest account. From honing strategies to insights on your campaigns, the team at Loop88 works closely to make sure that you're getting the best results out of your Pinterest account.
They've always dedicated themselves to Pinterest, and one of the most important things about Pinterest marketing tools revolves around just how well the people behind it know the social media platform. These people are the best of the best and have worked with the best. Put your trust, and your account, in their hands to see the best results possible.
17: Digg Digg Plugin

Used in conjunction with WordPress, one of the easiest ways to create and maintain your own blog, the Digg Digg Plugin supplies you with an easy, lightweight, floating toolbar for your website! By connecting this toolbar to your various social media accounts, Pinterest included, you can make it easier than ever for visitors to share what they like directly to their Pinterest account!
That's right, with a simple click of the button on that toolbar, any visitor to your website can share a thoughtful blog post or podcast directly to their Pinterest account, effectively sharing content within seconds! This definitely makes Digg Digg one of the best Pinterest marketing tools.
18: Postris

With an image-based site like Pinterest, having enough images to curate content on a consistent basis is an important part of any Pinterest marketing tool. That's where sites like Postris come in handy. Postris is a website that houses a seemingly endless supply of images from a wide variety of topics that tend to circulate Pinterest frequently—health, food, travel, and so much more!
Whatever suits your business, Postris has it covered. In addition to their images, Postris also has shareable articles that you can link directly to your Pinterest! Quotes, photos, and topical categories make your Pinterest planning so much easier with Postris.
19: Quintly

The main part of social media marketing is knowing what is and isn't working in terms of content and the duration of the said content. Quintly is a software that allows you to track your social media analytics, giving you reports on what's getting the most traffic, what's driving people back towards your website, and giving you a push as to what you should be creating more of in the future to keep these people coming back for more.
An important part of Pinterest marketing tools is knowing what pins are attracting the most attention, and Quintly puts your social media platforms into one graph to let you see what's performing the best on each account. That way, you can make sharing across platforms easy and efficient!
20: Shareaholic

Another amazing all-around social media marketing tool is Shareaholic. By combining the elements of marketing with the intuitive necessities of content curation, Shareaholic is one of the best Pinterest marketing tools you can use to up your game! Analytics help you analyze what's working, and gives you a general direction for your content to steer towards to garner and maintain an interested audience.
On top of that, Shareaholic also offers social share buttons! With small buttons that you can insert onto any page of your website, Shareaholic makes it easy for visitors to share content that they like across any social media platform they choose, Pinterest included!
21: Pablo

Creating images that are professional and worth sharing is a large part of Pinterest, and that's where Pablo comes in handy. Pablo, offered through Buffer, lets you browse through thousands of stock photos to create something unique for you, your company, and your services. With customizable fonts as well, you can create something worth sharing, and something that will inspire people to do the very same.
Additionally, when crafting these pictures, you can select the perfect size for the picture based on the social media platform you're sharing it too. So, when it comes to the power of Pinterest marketing tools, Pablo will crop and convert the image for you, making sure it's large enough to be seen and proportionally correct to keep the picture intact!
22: Curalate

A social media marketing tool that cuts down on your time spent researching for top content, Curalate is one of the best Pinterest marketing tools you should be using. Curalate helps you track trending and viral tags on Pinterest, bringing the top-rated content directly to your front door! By interacting and engaging with that content, you're putting yourself out there in front of a crowd of thousands, increasing traffic substantially.
Additionally, Curalate makes it easier than ever to sell your products and services through the sharing of images, bringing sales and leads directly to your front door through your Pinterest account!
23: Piktochart

With templates for your presentations, infographics, and posters, Piktochart gives you a multitude of ways to create spreadsheets worth looking at. When working with a medium that's primarily image-based, like Pinterest, you have to make sure that what you're sharing and creating is up to snuff, and is eye-catching enough to make people want to engage with your post.
Piktochart gives you that chance, by providing you with templates and step by step instructions on how to create the best looking posters you can! Then, sharing them on social media is easier than ever, making Piktochart one of the best Pinterest marketing tools on the scene.
24: Wishpond

With the choice to work with their team or do it yourself with their amazing Pinterest marketing tools, Wishpond makes social media marketing a breeze—especially when creating and cultivating online contests! One of the best ways to engage your target audience is with a contest, and Wishpond gives you all the necessary tools to run up to nine contests at once!
Contests can consist of anything as well, with one of their main suggestions being a photo contest. By having customers submit their own photos, they're providing you with new content to use at a further date, while also giving you a basis for content during the time of the contest! With sites like Pinterest, an image contest is exactly the kind of thing that brings in new leads!
25: Quozio

Part of creating pictures and images is finding a meaningful quote to share on top of it, inspiring people to click through and browse your website. Quozio is the answer to your graphic design questions! One of the best Pinterest marketing tools, Quozio is an amazing free service that allows you to type your quote in, and the website does the rest!
You can choose from a large array of background and font combinations, making your plain text come to life and end up as an inspiring image that you can then immediately share on social media! Creating in-depth pieces of graphic design can be time-consuming, and Quozio makes hours of work easy with a simple click!
26: Pinterest Analytics

Similar to Google Analytics is Pinterest Analytics, an extension that allows you to focus solely on your Pinterest performance. Pinterest Analytics can cover every aspect of your Pinterest account—data from your website, tracking of how often people save your pins, and tracking of the pins and posts that do the best with your intended audience.
Pinterest marketing tools are important when it comes down to keeping on top of the content you release, how it gets shared, and how often it gets shared, and nothing makes that job easier like Pinterest Analytics.
27: Snagit

Being able to use screen capture to get high-quality images of websites to include in your blog posts and image sharing is important, but having the best possible software to do so can be hard. That's where SnagIt comes in handy! SnagIt is the best available technology for grabbing screen captures of anything you could need on the web, as well as screen recordings for video clips!
Additionally, SnagIt is the only screen capture software that has a built-in photo editing option! You don't need any external photo editing software with SnagIt, as the color correction and option to customize is all in one package, making it one of the best Pinterest marketing tools you can get.
28: Pinterest Widgets

By collaborating with Pinterest Business, you get access to Pinterest Widgets, some of the best Pinterest marketing tools you can be using! The widgets come in a variety of sizes, ranging from a simple 'follow' button to a board that showcases your favorite and best pins to date. This gives people a chance to get to know what you're about and engage if they find themselves interested.
If they are interested, they can use the "save" widget to bookmark your content for their own account, successfully securing a new root of content curation, and expanding your audience at the same time!
29: Woobox

Another option you have when delving into the world of contests and customer engagement is Woobox! By engaging with your social media platforms, Pinterest included, the team at Woobox can help you organize and create an amazing contest that your customers will want to participate in; creating a new source of potential traffic and new customers in the process!
One of the best types of contests that suits Pinterest perfectly is a user-generated contest! This could include a photo contest, a caption contest, or a hashtag contest! All of these things are relevant to Pinterest, and Pinterest marketing tools, and getting people engaged with topics that are high on the trending list can put your company's name out there!
30: IFTTT

IFTTT—an abbreviation for If That, Then This—is one of the best Pinterest marketing tools you can be using. By combining all of your social media accounts into one place, IFTTT makes sharing across platforms easier than ever. IFTTT offers a variety of options for different accounts—for instance, you can change your settings so that, when you like a specific Tweet, that Tweet immediately gets shared to your Facebook.
The very same can be said about Pinterest! Making sure that things line up perfectly can be a little time consuming, and your perfect sharing window could come and go without a second thought. However, with IFTTT, you can make sharing your top pins to your Facebook, Twitter, or Instagram as easy as clicking a button.
You might be interested in 50 Top Instagram Marketing Tools to Skyrocket Your Instagram Marketing.
The Best Pinterest Marketing Tools: Engage and Expand With Your Audience
And… that's all she wrote! I know, it's a lot to take in, but with Pinterest rising as a viable marketing option, it's important to know what Pinterest marketing tools are among the best of the best. Image-based marketing works in ways that business owners and marketers are still trying to crack open and understand. This list will definitely help you along the way. So, check out what they have to offer, get your account situated and set up, and let the traffic roll in! You'll find results, and that's something I can guarantee.
You might be interested in checking out a list of 40 Of The Best Social Media Marketing Tools.