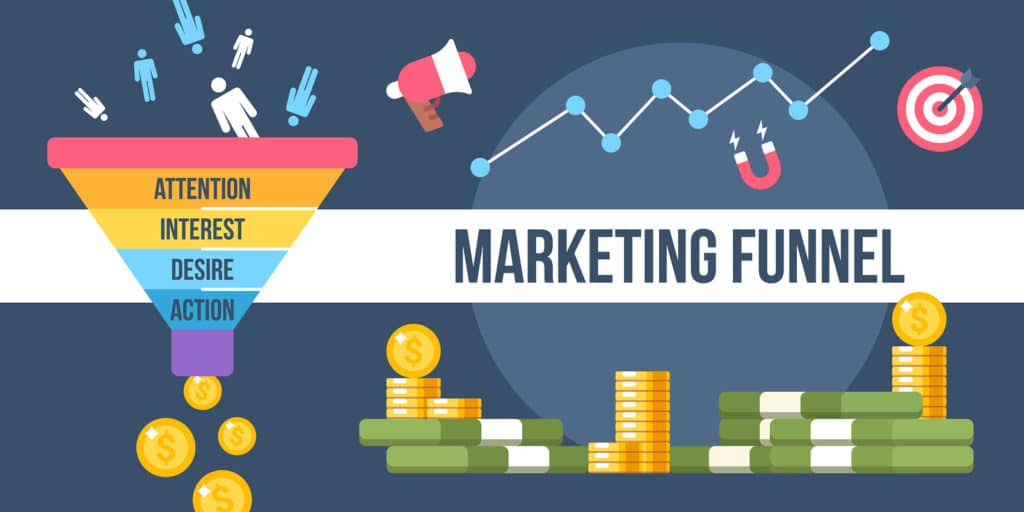 Do you ever wonder how many successful coaches and consultants make consistent sales?
If you are new to the coaching business, you know how hard it can be. You might book a one-on-one client now, but if you go on like this, you will never reach the six to seven-figure income that you are after. The reason is that you only have limited time.
Spending your time on coaching alone without any left to take care of managing and marketing your business will leave you exhausted and unproductive. And going into the rollercoaster of getting clients, coaching, and looking for clients will not get you anywhere.
Successful coaches don't just get clients here and there. They scale their business because they have a system to get the clients consistently and make them purchase more programs. The key to making this happen is what we call sales funnel.
If you don't have it yet, then you better read this article. We are going to talk about building a sales funnel for coaches that will make you succeed in your niche. Find out how coaches use their high-ticket coaching funnels in achieving predictable revenue and growth.
What is a Sales Funnel?
A sales funnel is a step-by-step process set-up to bring your customer a step closer to what you are offering and convince them to make a buying decision with a series of marketing efforts. It includes videos, automated emails, landing pages, and articles that will do the selling instead of you.
When you think of a sales funnel, it's like your virtual salesperson who will do the work for you 24/7, all year round, without whining or complaining. The process starts with an ad that will attract your client, after a series of strategic actions, this client will be purchasing your services because of sales funnels.
Sales funnels are not only for coaches; in fact, you can sell everything using the sales funnel, including physical products, information products, and services that consumers encounter every day.
When you have decided to grow your coaching business, you will realize that it is hard to market without a proper plan. You have two options by which you can improve your coaching business: you can use "hope marketing" or build a system.
Hope marketing is where you wait around for word of mouth and referrals to bring potential clients. It can also be going to networking events and talking to people with the hope that they can turn into customers. In short, you sit around and wait, hoping for business to come your way.
The second option is for you to have a system that will attract the right leads and turn them into paying customers. Many successful coaches have figured out how to work on acquiring clients, scale, and increase their revenue. This system is called a sales funnel.
What it can do is to approach the target clients by knowing where and how to reach them. Aside from reaching the prospects, it contains a plan to cultivate these leads and turn them into paying clients. It also has a plan on how to encourage the prospects to buy more products and get more. These coaches have a sales funnel system that encourages their existing clients to refer them to others.
If you don't want to rely on external factors that are beyond your control and wait for clients to come to you, then you better start building your high ticket coaching funnel. It will let you have a step-by-step system that will help you attract the right prospects and convert them into paying clients.
Why Building A Sales Funnel for Coaches?
You may be asking why building a sales funnel is essential; we'll tell you why?
As a coach, your goal is to help more people, have more money, and more freedom so that you cannot live the life you want. You will not achieve this if you wait for business to come to you. You need a system like a sales funnel to get you from the bottom of the stairs to the higher levels.
In coaching, the funnel is like a pathway that will guide your prospects into your business. As you might have experienced, your client will not readily buy something from you. And unless they have unlimited access to funds, it is hard for them to buy your most expensive coaching service without having a test of what you can offer them.
Getting clients, especially your dream clients into your coaching business and letting them see your offers that can add value to them, is an achievement. What is even better is to get them to sign for your high-value courses. That is what sales funnel for coaches can do for you.
And that is not all; the system also involves creating the right path that will lead new prospects to you. These are not just a continuous stream of opportunities, but they are the right clients.
What Does a Sales Funnel for Coaches Look Like?
Have you seen what a sales funnel looks like? It goes like this: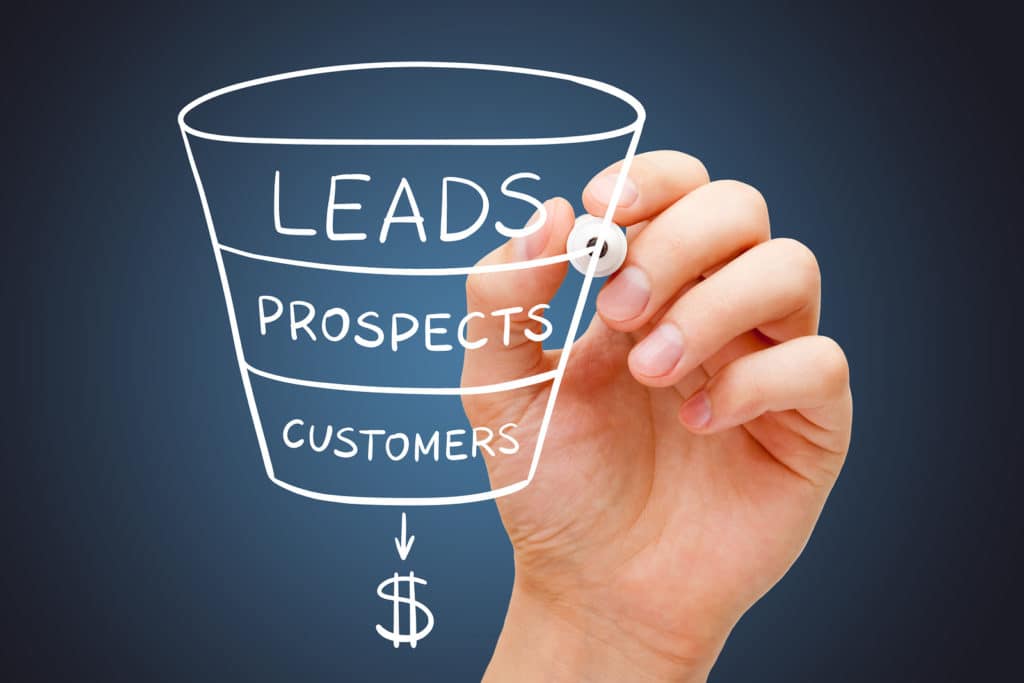 This picture speaks volumes about what a sales funnel is all about. As you can see, you have a wide opening at the top, and it gets smaller as you go down the funnel. It has the smallest opening at the bottom. That says a lot about how the sales funnel works too.
The top of the coaching sales funnel is wide because you are going to attract a large number of people who will be interested in what you have to offer. It can be in the form of products, free or paid, that would lead them to the next smaller level, where a more expensive product awaits.
At each stage of the funnel, you will be offering something to your audience. It usually comes in incremental value and cost. The good thing is each of these products makes sense to the clients because they are strategically arranged in chronological order.
It goes like this: After your customer purchases one of your products, they will likely purchase a second product because they like your content and, most of all, your coaching style. In creating your coaching funnel, you can add more steps. However, you should not veer away from the idea that the pathway to your products is clear and connected.
One more thing that transpires in this picture of a sales funnel is your customers will dwindle as you go down the funnel. This is not surprising because the people who will remain are your dream clients. It also means that those who stay are interested in your products.
Sales funnel facilitates a process of selection that will land you with a client that you really jive with. It's excellent for you and your clients because they will get what they need in a way that aligns with you and how you are working.
When designing your high-ticket coaching funnel, you should give your prospects more exposure to you and your services. Something that would provide them with clarity that working with you will be mutually beneficial.
The Different Phases of Building A Sales Funnel
In b a sales funnel for your business, the first thing you should know is the four phases that made up a coaching sales funnel. In each of these steps, you need to have different steps that need your action. Here they are.
Awareness Stage
The goal of this stage is to let the people know of your existence. Here, you should be thinking of ways to make people aware of your business. You can find a lot of methods to build brand awareness and reach your target customers. Here are some of them.
Content marketing – Creating compelling content can build brand awareness and help you make an audience. It includes articles that can bring traffic to your website with social media and SEO and helps people see you as an expert.
Video – Posting videos can help you build awareness because it allows people to see who are and form an instant bond with you. It will also help you demonstrate your service and share your ideas.
Paid Ads – Paid advertisement is a great way for you to reach your target audience. The beauty of paid ads is it allows you to target prospects by demographics or preference.
Referrals and word of mouth – Although this might be something unreliable, It can breed awareness of your business if your content and services are good.
Relationship Stage
When people have become aware of your brand, you have to continue building the relationship in this stage. Here you have to build authority and trust so that people will be comfortable buying your services.
For coaches, you should think about the communication channels that will allow you to communicate with your audience effectively. Some of these methods include:
Email marketing – This is a popular method among online coaches as it is inexpensive. Make use of your email list and keep on communicating with your prospects using emails.
Retargeting Ads – Use this method to show the people who have visited your Facebook page or site before. It helps to build familiarity with your brand with your prospects.
Other methods include webinars, sponsored videos, or social media.
Remember that in the relationship stage, you need to build buying beliefs before your customers will buy. Incorporate this belief in coaching sales funnel and educate your prospect so that they are ready to buy once they are in the Sales Stage.
Sales Stage
After your prospect has gone through the relationship stage, they should be ready to close the sale at the Sales Stage. At this stage, you only have thought: What should you do to get your prospects to pay?
A well-designed Relationship Stage will lead to easy selling. Your prospects will now have the desire to buy your services. However, you should not rest on your laurels. Instead, use these techniques to have a substantial Selling Stage.
If you are selling a high-end conference, prepare a landing page with video and include the list of your featured speakers. Include the list of the benefits for the attendees too.
Create a sense of scarcity or urgency to get the people to buy your products. Beware of using fake scarcity; when your prospects get wind of this, they will lose their trust in you.
Upsell Stage
The upsell stage is where you can make more money because you will be able to sell additional services to your clients. Aside from generating more revenue, you can also enhance your client's experience at this stage. For example, those who bought tickets for your live conference might sign-up for your master class if they liked what they see.
Pro Tip: When designing your upsell products, think about other services that your clients may want.
Final Words
For a new coach, this is the best time to contemplate who your ideal client is, their pain points and how you can use your experience and skills to serve them best. It will also help if you are clear about who your real client is, your offers, and how to score the clients.
Here are some simple steps on creating your first coaching sales funnel.
Build awareness. Create content that spreads about your topic of expertise and your message. Compelling content that highlights the ideal client's problems and gives an idea of the solution you can provide.
Create your lead magnet. An irresistible lead magnet is specific, quick, and consumable. The lead magnet should solve a problem that your clients are struggling with.
Sell an introductory offer. To sell your services, you should not give everything in your lead magnet. An intro offer is something that will provide your clients with partial transformation and should compel the buyer to get the whole package.
Sell your core offer. The core offer is the signature program that will provide a 100% transformation for your client.
Always remember that when building your sales funnel is consistency. From the top of your sales funnel down to the last step, you must stay on one topic. The success of your coaching business will depend on it as it builds your client's trust and makes them buy from you.