In just a few short decades, the mobile phone went from a great way to keep in touch while away form home, to an essential tool to modern life. For many, this little technological miracle is as important to them as an appendage; you can't be in any public place and not see people staring at their device, flicking an index finger back and forth. It's no surprise then, that a marketing niche has evolved to capitalize on this staple of modern life. Find out more in today's #WhatIsWednesday.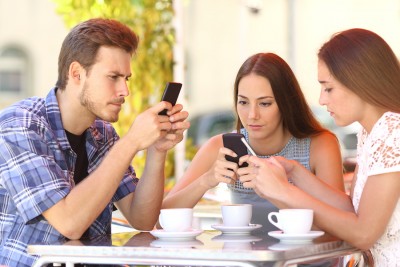 Mobile marketing is marketing to individuals who are using mobile smartphones, tablets and any other mobile device. This can include advertising with text messages (SMS Marketing), app notifications, QR codes or even mobile ads via Google or the cool Facebook Lead Ads I wrote about here.
Why You Need Mobile Marketing
As I said earlier, smartphones are everywhere and people are glued to them. If for some reason you still don't believe me, here are some quick stats about mobile marketing.
If you read that article, that's 3.65 BILLION unique global mobile users, and 1.91 BILLION of those have smartphones. That's just too big of a group of people to not be focused on.
Mobile Marketing Strategies
So you're convinced that it's a market that you need to start catering to, but what now? Well, some of these mobile marketing strategies you may be already using.  What is mobile marketing and what strategies are used?  I've listed some below:
Responsive Web Design: Responsive web design is a type of mobile marketing because you are catering to those individuals on a mobile device. I've said before how important this is, if you don't believe me ask Google, they'll back me up. Not sure if your website is responsive? Check out this video here. If it's not responsive, call your web developer NOW!
Facebook Lead Ads: Facebook's new powerhouse marketing tool only caters to those on a mobile device. They are new, and I've seen an incredible response from them, so start using them!
QR Codes – These quick response codes are a great form of mobile marketing. Need to know more about them and how to get them? Go here.
Text Messages – Be careful with these, as people are going to get very upset if you abuse it. But, if the user has asked for you to send them texts, and you can resist the urge to spam them with too many messages, this form of mobile marketing is really powerful. Did you know that 90% of people read their text messages? Save these for the messages you really want to get to your most loyal customers.
Location Marketing Ads – You can utilize Google or Facebook to show ads to folks when their phones ping in a certain location. Imagine the power of someone searching for a restaurant and an advertisement for your business appears because they are within walking distance? This is the pinnacle of mobile marketing and is a power that is just not possible with other avenues of marketing.  Some folks believe that location marketing ad's answers the question of "What Is Mobile Marketing" on it's own!
Last Words
Some final things I want you to consider about mobile marketing. Don't forget that screen real estate is limited, so you need to be clear and concise. You need to keep in mind who your audience is and remember to offer them valuable content, not just a sales pitch. As always, keep track of your results so that you can continually work towards generating more traffic and leads to your site rather than spinning your wheels.
Now we've answered the question "What Is Mobile Marketing?" …  now if you'll excuse me, it's been a while since I've checked my phone.