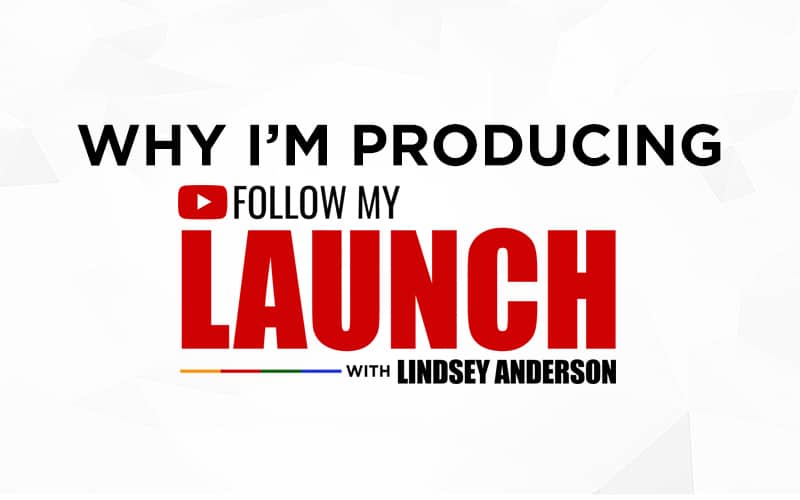 Producing Follow My Launch has been one of the most rewarding experiences of my life, and if you're here, I'm sure you know that by now. You've browsed the site, check out our YouTube channel (and subscribe, I hope!), and you now have a good idea of what Follow My Launch is all about, but you've left with a single question: "Lindsey, why are you producing Follow My Launch?"
I completely understand where you're coming from. Why, in fact, would I offer my services, my expertise, everything I could possibly have to offer, for FREE, to the lucky participants of the show? To be frank, there isn't just one answer. There are a number of reasons I'm producing Follow My Launch, so let's begin! 
First of All, What IS Follow My Launch?
Follow My Launch is a brand-new reality web series that will follow a few lucky participants as I help them prepare to launch their product. This is "edutainment" on a brand new level, giving viewers an inside look into what it takes to pull off a successful launch.
I'm Producing Follow My Launch Because I Love to Help People
We'll get to the core of the issue first: When someone comes to me and needs help, even if they don't necessarily have the funds or the capital to get what they need, I love to reach out in any way I can and help them achieve their goals. 
I personally believe that every single person has the ability within themselves to make their dreams a reality. In the simplest terms possible, producing Follow My Launch gives me yet another opportunity outside of my typical services to help aspiring business coaches follow their dreams, and for me, there's simply no greater reward than helping them make more money, find more freedom, and have more impact.
I'm Producing Follow My Launch to Give You a Reality Check
Producing Follow My Launch will help guide aspiring business coaches in the right direction by giving them a hard look at what it takes to be successful. In online spaces for coaches, it's too often that you'll see someone advertising a breakthrough method your business can implement to make a million dollars right from the start. 
They'll tempt you with an "easy" path to victory—but, of course, there's a catch. All you have to do is enroll in their expensive course, buy their book, or pay them to get information on some "big industry secret" that nobody else knows, and once you have all those tools at your disposal, nothing can stop you…right? 
Let's be real for a second here: I've been in the business for a long time, and I can tell you for a fact that there's no "easy" way to be successful, there's no uniform, be-all-end-all strategy that's going to take you to heights you've never imagined, and there are absolutely no "big industry secrets" that are holding you back. 
What does it take to have a successful launch? It takes talent, hard work, dedication, time, bravery, boldness, and above all, a willingness to learn from failure. Whether you're new at this or have been working at it for a long time, your launch may not be as successful as you want it to be. One thing that I really want people to know is that failure is the ultimate learning experience, and while it may be discouraging, it's one of the most valuable aspects of your journey. Nobody goes from a two-person launch to a multi-million-dollar launch without learning how to deal and learn from failure. 
I'm Producing Follow My Launch to Show You How It's Done
I want to give aspiring coaches a peek behind the curtain and see the whole process for themselves. I want to show people what it REALLY takes to be successful, with all the highs and lows included. When you watch this show, I want you to have a greater understanding of what goes into a successful launch, so when the time comes for you to create your launch, you'll be better prepared than ever before. 
This may sound intimidating, but don't let it discourage you. I'm producing this show to give you HOPE, and my goal is to give you true, realistic expectations to sink your teeth into so you KNOW where you're going and that you CAN and WILL get there!
False promises from aforementioned ads like that can get your hopes up—after all, who doesn't want an easy path to financial security and freedom? But when entrepreneurs jump into action with no real plan, thinking that some easy method sold to them will be the end of all of their problems, and then that doesn't turn out to be the case, they end up devastated and discouraged. Some quit forever, and the world is robbed of their skills and talents—I don't want that same thing happening to you.
I'm Producing Follow My Launch Because I'm a Teacher at Heart
I love, love, LOVE to teach, and I've made a business out of educating people. However, one thing I found to be true above all else is that people love to be "edutained." So, my goal with the show is to edutain you about the launch process. It's one thing to see a talking head on the internet go on and on about all the right things to do, but to see it play out on a show? That's a whole other deal.
If I can let you in on a little secret… I LOVE reality TV. Big Brother, Chopped, Married at First Sight, Shark Tank, you name it. With the idea of edutainment in mind, while hoping to give people the inside scoop on what it takes to pull off a successful launch, I couldn't pass up the opportunity to produce my very own reality show.
As you can see, I'm 100% serious about this, and I hope you're just as excited as I am to get started. While you're here, don't forget to check out the rest of our website, and subscribe to our YouTube channel, where we'll be posting updates, interviews with participants, and more as we head towards our premiere. Sit back, relax, and get ready for the first season of Follow My Launch, the most groundbreaking piece of online business edutainment in history!