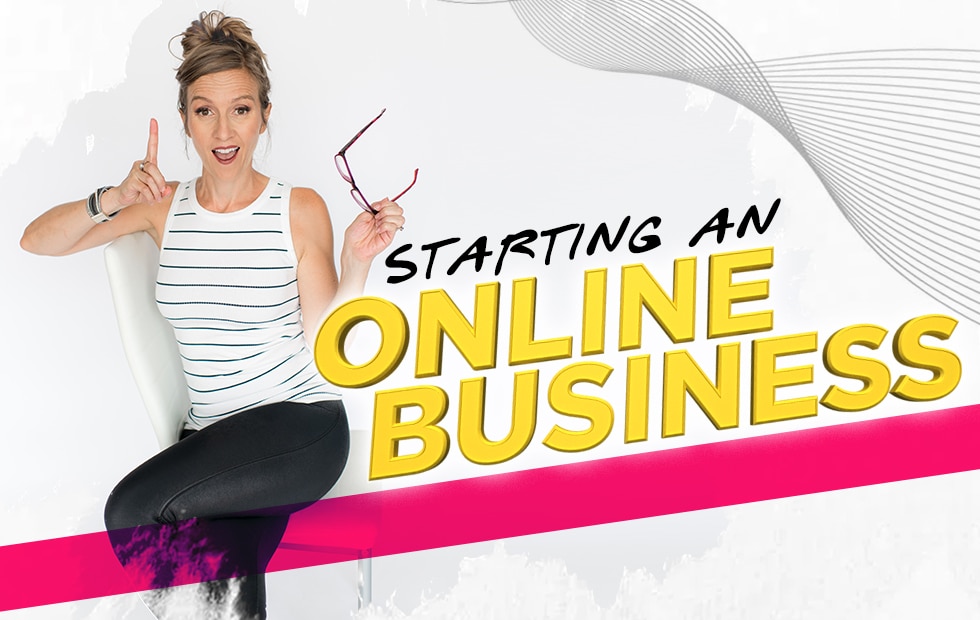 So you're thinking of starting an online business, but you're not quite sure where to even begin. Believe me, I get it—there are so many factors to consider, and while the internet is an outstanding resource for putting yourself out there, it can be intimidating to get started. If you have the drive, but don't yet have the know-how, then you've come to the right place. 
We're living in a golden age of accessibility. With the prevalence of social media and other digital platforms, it's never been easier for us to put ourselves out there. However, having good ideas and special talents alone isn't going to cut it. You'll have to know how to work the machinery of the internet if you want to be successful, and learning is no easy task. If you're thinking about starting an online business, I've put together a guide to cover the basics and help you get started.
Starting an Online Business: Finding Your Niche
What's the very first step in starting an online business?  It may seem obvious, but it's worth repeating: You'll have to find your niche. Think of your skillset, your talents, the things that make you stand out. How can you utilize these traits to help guide others towards success? Everyone has a unique talent or trait that nobody else can provide, and tapping into yours is what's going to help you find your niche.
When you find your niche, you'll have to figure out how to apply it practically to your methods. Take what makes you special and make it a central feature of your business. Are you a successful marketing guru? Do you specialize in money management? Do you have keen people skills that give you a sense for appealing to the right audience? These are all traits that budding entrepreneurs value, and if you utilize them as a business person, you'll already start with mass appeal. Whatever your special skill is, own it, and success will be within reach.
Starting an Online Business: Market Yourself
You've identified your niche and you're ready to finally put yourself out there—great! But how do you do it? The answer is an old, timeless method: Marketing. Amp yourself up and get your message heard. Start a website—if you are unsure how to, there are dozens of options available to help you. You can either learn to do it yourself or hire a professional to make one for you.
Create and send out press releases. Don't have the time to write one, or not confident enough in your writing abilities? Hire a copywriter, and they'll do it for you. If you want to skip that altogether, consider starting a YouTube Channel and creating videos to introduce yourself and advertise your services. Make use of social media like Facebook, Twitter, Instagram, and more to increase your reach even further. Getting your name out there is the first step to drawing in clients, and the harder you work, the more you'll attract! As I said, we're in an unprecedented age of accessibility, and there's no end to the ways in which you can advertise yourself on the internet.
Starting an Online Business: Build Trust
How often do you see an ad for a product or service that promises to solve all of your issues (without specifying how, of course), and the moment you visit their website, all of those "solutions" are locked behind a paywall with no guarantee as to whether or not it will actually work? There's no quicker way to dissuade possible clients, right?
In this sense, it's critical to build trust between you and your potential clients, even before they entrust you to help them with their businesses. How do you do that, exactly? It's not as hard as it may sound. Your best bet is to create free content for all to experience. This can include YouTube videos, blog posts, free podcast episodes, and more. These are some of the easiest ways to get potential clients to know you better, and once they know you, they'll trust you. That being said, don't give everything away right at the start. There are some secrets that you'll have to save for the people willing to hire you—THAT'S what will make the difference for them once they take that first step to trust you. 
Starting an Online Business: Stay Consistent
You've put yourself out there, drew in clients, and established trust. You're doing great! That being said, there's one major risk that most business persons tend to overlook: Clients purchase their services once, get what they need, and move on. How do you prevent this from happening? The key is to stay consistent. It goes without saying that you'll need to work hard to stay successful and keep your clients happy, but you'll need to keep yourself in check as you do it. Don't overpromise, and certainly don't underdeliver. More than anything else, the trust you established with your clients early on will be strengthened not just by hard work, but by being fiercely reliable.
When they ask for results, you have to deliver those results every single time. Ideally, you don't want them to even think twice about asking for your services again. As you help people launch and manage their businesses, it won't be smooth sailing the whole way. There will be problems and pitfalls of every type, and when that time comes, you'll have to be ready to be there. If you can pull this off successfully, there's no doubt that they'll come back to you over and over again, and as you develop your relationship with your clients, this will translate into reliable, consistent success.
Starting an online business is hard work, and there's no one set way to guarantee success, but I hope this guide lays out a blueprint for your success. Don't be afraid to take the plunge. Find your niche, market yourself, build trust, stay consistent, and you'll be the business person you've always dreamed of being in no time. You can do it!