Being an Internet Marketer, I get pretty excited to see a new shopping cart system that promises an easy setup and simple checkout process.   Enter Samcart and the reason for this Samcart review.  I assume you're looking for the perfect solution for ecommerce just like me.   When looking for a shopping cart,  it's not enough to be selling the right product to the right audience, you have to provide the user with the best shopping experience. The goal is not just to allow a customer to purchase a product, but for them to enjoy the entire experience of browsing the inventory and completing the purchase, all while allowing the store owner to capture important information about the customer to make sure they come back for more.
That means that as an ecommerce business owner, you want easy add-ons, order pulls, seamless payment processing, almost invisible tokenization and of course sales!
So when my Infusionsoft-dependent client wanted some sexier shopping cart pages, I read some SamCart reviews and decided to give it a try. With what I had heard about SamCart, I was really expecting it to be the Ferrari of shopping carts. And while it does have a lot of bells and whistles, at a steep price of $200 a month, it fell short in so many ways.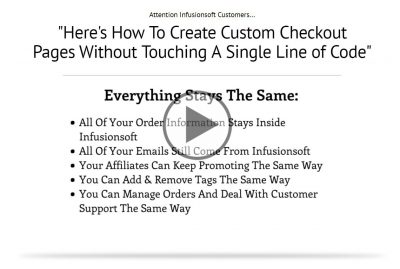 Below are the top five reasons I decided SamCart wasn't the right choice for me or my clients:
Samcart Review Problem 1: Infusionsoft API Integration was a problem
SamCart sells itself as a turn-key shopping cart solution that easily integrates with software such Infusionsoft. To help drive that point home, they have this awesome video, that makes it seem like your day-to-day operations in Infusionsoft would say exactly the same, while your wildest e-commerce dreams come true in an instant. I don't know if their video is old or their software has changed, but most of the stuff in this video just isn't true.
At the time of this SamCart review, the only integration that SamCart had with Infusionsoft was the following:
The ability to add customers to an email list on purchase
The ability to add customers to an email list on refund
The ability to remove customers to an email list on purchase
The ability to remove customers to an email list on purchase
Not only that, but these were integrated only if you had your tag's set up JUST so in Infusionsoft. My client has been an Infusionsoft customer for years so their reliance on action sets made the SamCart integration nearly impossible.  I was so frustrated that Samcart wasn't upfront about this that I decided I had to write a Samcart review.
Samcart Review Problem 2:  Customization was limited
Although Samcart boasts about its customization features, I found that the user-interface was limited to 18 templates, and those would only allow you to change color themes. That's pretty limited for a piece of software that is touting their customization features.  Therefore, this Samcart review gives customization a big fat thumbs down.
Samcart Review Problem 3:  Technical settings were a problem
Samcart is a beautiful piece of software and when I first logged in, I felt that I must be in good hands. Then I wanted to do some pretty simple things, such as change my contact information or add an affiliate. There were errors and issues all over the place. I was on the tech support chat multiple times and was told they were "working on it." It was a little frustrating that a piece of software touted as "enterprise level" made me feel like a beta tester.
Samcart Review Problem 5:  Tech Support Tricks
As noted above, I desperately needed SamCart support more than once. Phone support is not available, only a "chat window" that is really just fancy way of sending email. No one is actually at the end of this support window, and you are told they will get back to you in 24 hours. It's super frustrating when I'm looking for immediate support to do something simple. I don't know why they say let's "chat" when it should just say "Hey submit a support ticket… we'll get to you when we can."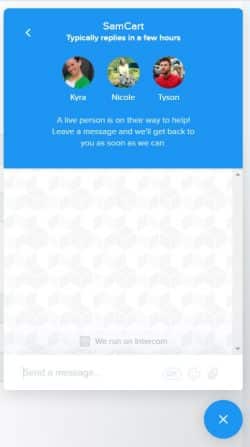 Samcart Review Problem 6:  Payment Processing
For an ecommerce site, this next complaint is probably the most relevant. After I felt like we got SamCart up and running, we ran some test orders. I typed in a credit card to test a purchase and accidentally mistyped the number. The cart responded with the following error "Cannot Process Your Order Right Now." Uhhhhhh…. what? If I was a real customer, I would have left thinking the site was experiencing technical difficulties, and maybe I'd come back later when the system was back up and running. The system should 100% have shown an error about not being able to process that specific credit card or an invalid card number, or SOMETHING to let me know where the problem was.
For any ecommerce owner, this is just completely unacceptable. A vague error at this point will make all of the other work irrelevant. A customer will not only walk away from a purchase but from your website…forever.
To sum up my SamCart review, I just couldn't feel comfortable committing to this product for myself or my ecommerce clients at this time. I really wanted to endorse a product that was the brainchild of a fellow internet marketer, Brian Moran, who has a great story about how he started his own online business and marketing strategy. But after my own testing and integration with Infusionsoft -I found it very frustrating to work with and wouldn't recommend it until some more issues get resolved and features get added.