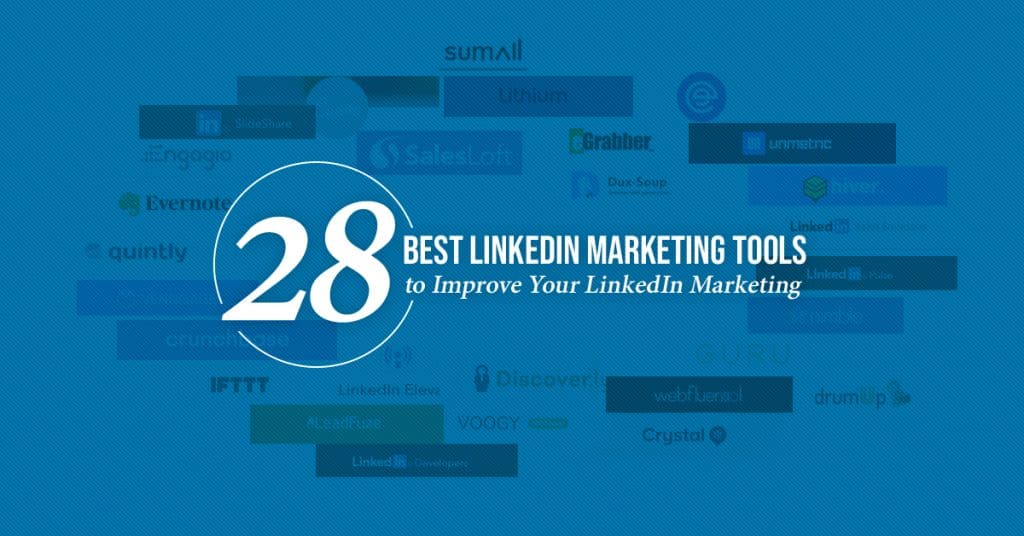 As a business owner, an entrepreneur, and someone who works in the marketing field, making sure that you're using the best LinkedIn marketing tools to improve your overall business strategy is important for your future success. LinkedIn is a social media platform that's built for the express reason of giving business owners a place to connect, collaborate, and form relationships with each other in order to further their progress and help others along the way. However, if you're new to LinkedIn—or if you're unsure of how to get the job done when creating a LinkedIn profile—approaching the world of LinkedIn marketing can be a little intimidating.
That's where we come in. In order to up your LinkedIn strategy, you need to be using the best of the best when it comes to your LinkedIn marketing tools. We've compiled a list of the things you need to be using in order to complete your LinkedIn marketing plan! From social media organization to plugins created specifically for use with LinkedIn, these amazing LinkedIn marketing tools can help you expand your horizons and get the job done. Let's get started!
One of the most important parts of using social media to further your reach get your message out is the content that you curate and create to do so. LinkedIn Elevate makes sharing that content is easier than ever, making it among the best LinkedIn marketing tools. Elevate functions as both a desktop application and a mobile app, and it uses its own algorithm to scour their news sources to suggest articles that can be scheduled and shared on your LinkedIn profiles. By having a source that finds relatable and informational content for you, you can save yourself time and instead focus on other aspects of your marketing strategy.  

When you're running more than one social media platform at once, having a place where they can merge onto one dashboard can make your life easier than ever. Discover.ly helps with that process, bringing you one of the must-have LinkedIn marketing tools to combine your LinkedIn account with things like your Gmail, Twitter, and Facebook! Discover.ly works as an extension for Google Chrome, giving you a chance to help your most important social media platforms "play nice" with each other by receiving real-time notifications!

Part of being a business owner is having your own website, and when you're trying to conduct traffic both to and from your social media platforms, having easy access to your most important accounts makes the act of success easier in the end. That's where LinkedIn Plugins come in handy. Through LinkedIn, you can create javascript for a multitude of websites and platforms that allow you to install a LinkedIn widget onto that site, making it easier than ever for people who visit your website to connect with you on LinkedIn! When it comes to starting a conversation and making connections with other marketers, having a LinkedIn profile that's easy to find is important, and that's why LinkedIn Plugins are among the best LinkedIn marketing tools.

Part of finding the best team to work with is understanding the types of personalities that you want to surround yourself with and the attitudes that come with them. Crystal is an application that allows you to create a personality profile that reflects the kind of work ethic you create, as well as the type of things that make you an excellent worker and marketer. Big businesses all around the world rely on Crystal to find the best fits when looking for co-workers. Letting people explain themselves is one of the best ways to find out what you can expect if you choose to hire them! When it comes to LinkedIn marketing tools, it's easy to see why Crystal is among the best.

One of the most important parts of being a business owner is being able to make and close sales on a regular basis. That's what SalesLoft is here to help with—by nearly perfecting the art of sales engagement, the team at SalesLoft aims to help you bridge the gap between business owner and consumer with ease, making it one of the best LinkedIn marketing tools you should be using! By personalizing your sales strategy, focusing on establishing real human connections, and providing data-driven results to tell you where your sales technique should be going, SalesLoft is an amazing investment that can bring you full circle when you need it the most.

One of the most important steps in marketing is building up quality leads that ensure future customers and future sales. However, generating those leads isn't always as easy as we want it to be, and that's where software like LeadGrabber Pro can help us out. As one of the best LinkedIn marketing tools, LeadGrabber Pro compiles lists of possible clients from top networking sites, just like LinkedIn, in order to give you a head start on finding the best leads for your business. With the ability to search through social media platforms and the ability to generate a list of emails that you can use for newsletters and outreach, it's easy to see why B2B marketers are using this amazing software!

It's important to generate new leads and prospects in order to grow your business, and Dux-Soup makes sure that you can focus on the importance of cultivating these relationships while doing the heavy lifting that requires getting them interested! With Dux-Soup, designed specifically for LinkedIn, you can create new business leads, grow your brand, and create your own profile of targeted sales campaigns to make sure that you're on top of things. With how much it does for you and how much time it frees up for you to focus on expansion and growth, it's easy to see why Dux-Soup is a must-have among LinkedIn marketing tools.

Previously known as Salestool.io, Voogy is an intent-driven marketing automation platform that can not only improve your overall business strategy, but can improve your outbound and inbound lead engagement, and generation! When it comes to LinkedIn marketing tools, we want to make sure that we're doing everything we can in order to nurture the leads we want to generate. However, things become tricky when we don't have the time to do everything we want, and that's where marketing automation can help improve our marketing strategy!

One of the most popular ways to generate a marketing strategy lately involves influencers, and Webfluential is one of the best LinkedIn marketing tools you should be using in order to find the right influencers to connect with! Webfluential works with small businesses, large businesses, and entrepreneurs to bring together top influencers in their field with businesses who need their help in order to create a bigger and more effective brand outreach. Allow Webfluential to find your perfect match and let them help you grow your brand with the best of the best.

Another amazing way to generate top quality leads is LeadFuze, a must-have when it comes to your LinkedIn marketing tools. LeadFuze makes it easier to look for leads, taking away the hours of searching through nearly every profile that LinkedIn has to offer. Instead, LeadFuze lets you search for specific leads in different areas of business, allowing you to become more specific with the people that you're trying to connect with and that you want to collaborate with in the future. Additionally, you can unlock the necessary avenues of contact to make sure that reaching out to these people is easier than ever!

An all-around improvement and help towards your business strategy, Guru uses powerful AI to help bring a sense of effectiveness towards your sales, marketing, support, and more! As one of the best LinkedIn marketing tools, Guru gives you suggestions on the knowledge that's relevant to your field of business, encouraging you to learn more about the thing that you're supporting through natural growth. The more you use Guru, the smarter it gets and the better it understands your team!

IFTTT, or If This Then That, is an amazing application that allows you to control your social media platforms down to the smallest of details. Because of how specific you can get, it's obvious why it should be among your LinkedIn marketing tools! With specific commands, you can schedule your social media posts, planning them down to the hour! Additionally, you can cross-post through a variety of easy to use settings, allowing IFTTT to do the hard work for you! With IFTTT focused on spreading vital information through the necessary channels, you can work on lead generation and conversion rates, making it essential to any marketing strategy.

A social media organization software that aims to help you specifically grow your contacts and connections with your clients and other business owners, Nimble is a must-have among your LinkedIn marketing tools. Nimble complies a frequently updated list of contact profiles, allowing you to browse through with ease. Additionally, Nimble collects an inventory of your contacts and the best way to reach them, generating your top leads instantly. With an option that also shows you your calendar and scheduled events and makes the art of closing deals easier than ever, Nimble is a piece of software you don't want to miss out on.

Lumen5 is an online video maker that turns text into stunning social media videos in minutes. It does this automatically by analyzing the text through AI and putting the best music, video, and images together accordingly.

Another mobile app powered by LinkedIn, LinkedIn Pulse aims to bring the best news right to your phone! LinkedIn Pulse shows you top breaking news stories, news that your fellow colleagues are reading, and push notifications when your favorite business owners and entrepreneurs publish their own work. This app aims to keep you in touch with the biggest and the brightest. Making sure that it's relevant to what your business does is important, too, and LinkedIn Pulse makes sure that what you're getting is something you can use, share, and educate your audience with, making it essential when it comes to your LinkedIn Marketing tools.

One of the most important parts of LinkedIn marketing is making sure that your visuals match what your information has to say. Additionally, creating infographics that are eye-catching as well as informative is essential to getting your audience's attention, and that's where the amazing Venngage comes in handy. A free tool, Venngage allows you to choose from thousands of templates for infographics or to upload your own graphics, images, and more into pre-set outlines. As one of the best LinkedIn marketing tools, Venngage is essential to a fully functioning LinkedIn strategy!

Another amazing tool that was created by the team at LinkedIn is the LinkedIn Sales Navigator. A software that can help you increase the reach of your business as well as search for new leads in places that'll bring the best customers to the forefront, the LinkedIn Sales Navigator aims to be your one-stop shop for everything you need to master LinkedIn. With a way to store the leads you need to contact, a chance to see who has currently viewed your profile, and real-time sales updates to show you just how much your hard work is paying off, the LinkedIn Sales Navigator is a must-have among your LinkedIn marketing tools.

Social media management is a must when you're planning a cross-platform strategy, and Quintly is among the very best when it comes to organization and the essentials for your LinkedIn marketing tools. Quintly offers you a chance to combine your social media platforms into one, easy to use interface, allowing you to create multiple versions of the same post that you can tailor for each social media site you're engaged with! Additionally, Quintly offers you top of the line social media analytics, giving you quick and immediate insights into how your content is doing and what you should be doing more or less of to keep your audience engaged.

When we communicate with our co-workers, we usually do so by email. However, one of the biggest technological problems is a cluttered inbox, and being able to sort through what we don't need in order to find what we do need can be more time consuming than it's worth. That's where HiverHQ comes into play. An amazing software that connects easily with any Gmail account—and a handful of social media management tools as well—HiverHQ allows you to combine your inboxes into one place, making the daily process of checking your mentions and notifications easier than ever! With top of the line organization, never fear about losing what you need the most again with one of the best LinkedIn marketing tools.
20: UnMetric
Analytics is one of the most important things we can use as marketers to see how well our content is doing with the audience base it's intended for. UnMetric is an amazing social media analytics software that harnesses the power of AI to give you the most in-depth results for your social media accounts—see which content is rising to the top, and check on how well that content is doing against some of your biggest competitors on the scene. As one of the best LinkedIn marketing tools, UnMetric lets you discover amazing ideas, curating and generating better content based on topics that relate to your overall message, and so much more!

A marketing software made especially for LinkedIn, eLink Pro is one of the best LinkedIn marketing tools to help you collect your prospects, reach out to a wider audience to generate new leads, and connect with other people who work in the same field of business that you do. By getting a marketing software that's been created specifically for the collaboration of LinkedIn, you can rest assured that you're getting the best of the best when you work with eLink Pro. By communicating with top marketers and influencers, you can build up a strong foundation for your business and your brand, making it easier to connect with potential clients!
22: Lithium

Making sure that what you're creating is something you can keep track of with ease is important as a business owner. Lithium provides top of the line social media management to make sure that what you're posting and what you intend to share is easy to find and read, and is ready to make a bigger connection with the people who're interested in what you have to say! Lithium gives you a chance to not only schedule your content but to improve the way you connect with your audience by giving you an updated and amazingly effective messaging and response system! It's easy to see why Lithium is one of the best LinkedIn marketing tools.

When you use social media platforms like LinkedIn, you want to make sure that the images you create to accompany your content are professional, easy to read, and eye-catching. That's where free tools like Canva come in handy! Canva allows you to create a multitude of image-based products—business cards, graphics, infographics, resumes, flyers and more are all options at your fingertips. With templates, editing options that are easy to use, and a selection of stock images and amazing text options to make your posters pop, Canva is a must-have among your selection of LinkedIn marketing tools.

SlideShare was created specifically for LinkedIn users to share some of their favorite content in a purely image-based medium! Marketers, business owners, and entrepreneurs can create their own SlideShare moments through the content they enjoy the most, effectively sending it to a place where other marketers and business owners can view the content and enjoy it just the same. Share infographics, articles, images, and even more, allowing you to not only learn something new from your fellow marketers but to also share something new with them, making the education come full circle. If you have a LinkedIn account, then you have to be using SlideShare as one of your LinkedIn marketing tools.

LinkedIn is a wonderful social media platform that works well in the B2B marketing area, and when you're focused on building sales and engagement, you need something like Engagio. As one of the best LinkedIn marketing tools, Engagio allows you to monitor your engagement levels as they happen, allowing you to see just how well you're performing! Additionally, you can understand more thoroughly what ABMs are, and how well you're performing against your competition with multi-channel actions and ways to check on how well your accounts are engaging.

When you're a marketer, it's important that what you have collected in your notes is organized and easy to read through. That's where Evernote comes in! Designed as a note taking app, Evernote allows you to upload, save, and manage the notes you take for the content you create and want to produce. It also manages Google Docs, things that might get lost in a sea of emails, and more. LinkedIn marketing tools are important because they make the lives of business owners easy, and having a digital daily planner that allows you to manage your biggest projects, create to-do lists, and collect your thoughts makes it among the very best.

Social media management is important when you run so many social media accounts, but social media automation is just as important. When you're busy, having the time to upload what you need to upload can be a bit of an issue, and that's where SumAll takes control of what you need to post and when. SumAll allows you to combine your accounts into one place, letting the automation process begin with ease. Additionally, with your content being automated you can see better engagement results in real time, making SumAll a must have among your LinkedIn marketing tools.

A large part of using social media like LinkedIn is the content that you create to share with your audience. DrumUp is one of the best LinkedIn marketing tools that aid that process along. With a combination of social media management and content marketing, DrumUp cuts down how much time you need to sort through your various social media accounts by allowing you to check through the mentions and notifications that matter. Additionally, DrumUp brings top curated content to your front door, allowing you to do the same and share some of the best content with your audience and fellow marketers!

The final tool that I wanted to mention to you is a tool called lempod. lempod lets markets get ten times the views on their LinkedIn posts by getting likes and comments from other LinkedIn Content marketers. You join groups of people ready to support you with likes and comments, called pods, which can be sorted into categories that are most relevant to your industry. From there, share your content with your pod to get their likes and comments on your stuff. It's a great way not only to get more support on your content but to support other like-minded folks in your industry!
LinkedIn Marketing Tools: Making Sure You're Using The Best
And… that's all she wrote! With as many people as there are on LinkedIn, it's important that you have the best of the best in your arsenal of LinkedIn marketing tools. From covering lead generation to general social media management, and making sure that your audience is engaging with the content you create, these amazing pieces of software are here to help you create a LinkedIn marketing strategy that'll bring you effective results! Each tool has something unique to offer that'll make your business marketing plans stronger, more effective, and easier to use, and making sure that you've got some of the best LinkedIn marketing tools under your belt for future growth and a stronger foundation among marketing peers is important for your long-term success.