What Is WordPress?
In the early days of the Internet, if you wanted to create and modify a webpage, you were stuck learning HTML and CSS.  Not a very realistic solution for most small business owners!  This usually meant paying somebody to create it for you, and then calling them, waiting, and paying for even the most minor of content updates.  Content Management Systems rose up from this primordial soup of frustration to make maintaining your own website more realistic.  What is one of the best ones that you can get for the low cost of nothing?  Find out in today's #WhatIsWednesday!
WordPress is an adaptable open source content management system that you can use to create everything from a brochure website to some very complicated online applications.
The vast majority of my clients have very common website needs, and so I'll have my staff build their site using WordPress.  Why?  Well…
1.  WordPress provides a solid website foundation. 
Once you install WordPress with a template, you can have a website up and running in a matter of hours.  Typically, clients want some customization to make their website reflect their personality but WordPress makes that pretty easy as well.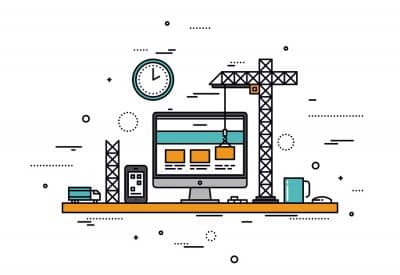 2.  WordPress gives control to my clients. 
Out of the box, it will allow my customers to manage most aspects of their site, like adding pages, images and modifying menus.  Clients can do this all without knowing the specifics of the code, which gives my customers a ton of power and they don't have to call me every time they need to update a phone number or swap out a picture.  While I appreciate the extra revenue that would come forcing my clients to rely on me, it makes for happier clients if they can control most of their websites on their own.
3.  WordPress is Popular.
Utilizing a popular framework like WordPress makes my client's life easier.  If they decide to bring somebody on staff to do their web development or we part ways for some reason, their new web developer doesn't have to jump into an unfamiliar code-base and figure out how the new system functions.  It's pretty simple to find a WordPress developer, and even if your current developer doesn't know WordPress an endless supply of online tutorials exists to get them up and running.  In fact, according to this WPbegginer.com article, WordPress powers 22.5% of all websites on the internet including Time Magazine, Google, Facebook, Sony, Disney, LinkedIn, The New York Times, CNN and eBay.  Wow… if that isn't enough proof that WordPress is good enough for your new business I don't know what is.
4.  WordPress is FREE.  
Need I say more?
5.  Plugins Galore.    
Do you want your website to allow for users to login and access secret pages?  There's a plugin for that.  How about a calendar that allows you to take reservations for your Zip Line company?  There's a plugin for that too.  There are thousands of WordPress plugins for free or super cheap that will allow your WordPress site to have a ton of bells and whistles without you having experience the cost and aggravation of developing them from scratch.
6.  Search Engine Optimization Friendly.  
Wordpress is inherently SEO friendly, making sure that Google can index your site appropriately.  Not only that, there are a few awesome WordPress plugins like Yoast SEO that will allow you to perform even more Do-it-yourself SEO.
So, there you have it.  Let me answer the question, "What Is WordPress?," in one sentence.  It's a free piece of software that allows you to dazzle people by telling them you update your own website!  Now you can save the emergency calls to your developer for the really important things, and not because somebody told you that you used the wrong "there" in your copy!