When it comes to expanding our reach in the world of digital marketing, it's important that we use the best and the most efficient techniques possible to secure quality traffic, leads, and clients. However, with how fast-paced the online world changes, maintaining the best digital marketing strategies can be a challenge, and sometimes, it's nearly impossible to keep up with what's legitimate and what's a scam.
Additionally, we have to make sure our content is not only what the people want but also maintains a certain level of quality that can compete with the best and the brightest in our field. So how do we go about making sure all of our bases are covered?
Brian Greenberg has the answers. A marketing expert who specializes in selling online—as well as the founder of True Blue Life Insurance—Brian uses organic approaches to complete his SEO circles and does everything he can to ensure that people are buying and selling in the most efficient ways possible.
His techniques are incredibly useful and have proven to be efficient when finding out the best digital marketing strategies and how they influence the way we operate our SEO campaigns, as well as the best way to communicate with our clients.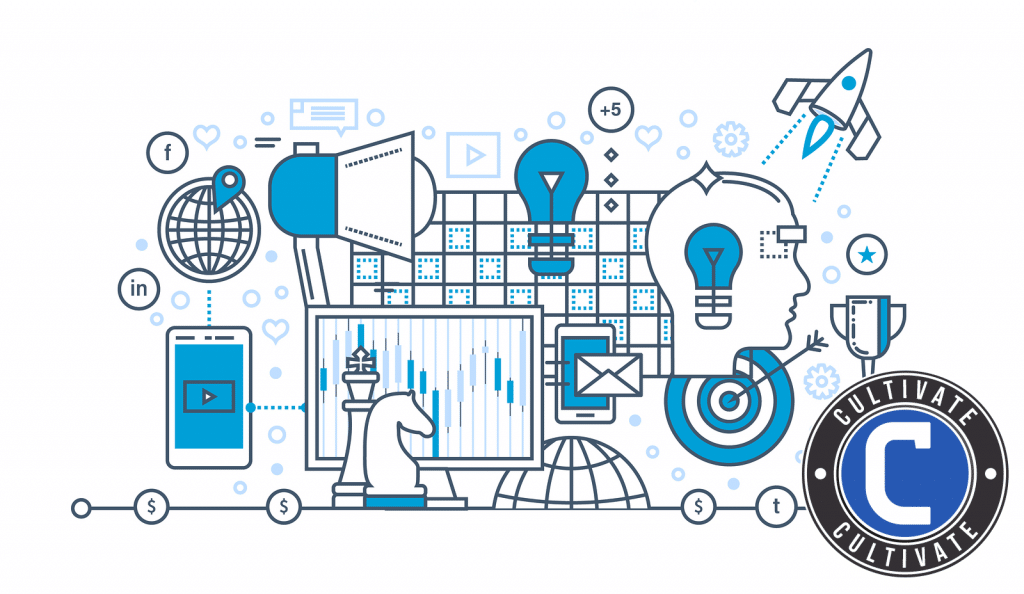 Best Digital Marketing Strategies and The CLICK Technique: "C" for "Cultivate"
Before we get into the details of the best digital marketing strategies, however, we need to discuss The CLICK Technique! A five-day crash course of my own invention, The CLICK Technique was designed to help business owners give their website a new look if it's sitting dead in the water.
By following the steps of The CLICK Technique, you'll be able to find the traffic and leads that you're looking for! Each letter in the word "CLICK" stands for a different step you should be taking every day to help cultivate your audience, and the results certainly speak for themselves.
In the case of obtaining the best digital marketing strategies, we'll be focusing on the second "C" in the word "CLICK", which stands for cultivate. Once you've created your website and have started to build a base with a target audience, you want to make sure that you're doing everything you can to maintain a strong connection between yourself, the business owner, and them, the potential client. By doing everything you can to ensure that you'll complete the sales process, while also making sure that you're communicating, connecting, and cultivating your relationship with a prospective client, you're sure to find success.
When it comes to making sure you've got the best digital marketing strategies, the very same concept applies. By enforcing a strong bond between yourself and the client, you can implement the most effective sales techniques, ensuring that you're getting high-quality leads and conversion rates.
Additionally, these relationships can help you build a solid SEO foundation with the review system, making sure that not only do you rank well but that you're ranking well for all the right reasons. Cultivating and growing a bond between yourself and your clients is extremely important and something you shouldn't forget about.
Best Digital Marketing Strategies: 3 Things You Must Be On Top Of
Now that we know what to focus on, honing in on the best digital marketing strategies and implementing them into our business lives becomes a little easier. The whole idea behind generating the best marketing campaigns revolves around selling your products or services with information rather than pushing your brand onto people.
By doing everything you can to shorten the process of a sale while still making sure the process itself is automated and systemized, you're building a source of credibility for your company in the eyes of your target audience.
In fact, there are a lot of options that you can latch onto—things you can do on a weekly or even a monthly basis in order to maintain your SEO rankings and cement yourself as an expert in your field through interactions with your client base, as well as reaching out to others in order to build your website to its ideal standards.
1: Focus On Content and Building Backlinks
By focusing in on a strong combination of quality content and high-ranking backlinks, you're taking your best digital marketing strategies in the right direction. This is especially important if you're in a competitive industry. You want to get as many authority backlinks as possible to solidify your place in your field and to hold up against your competition.
These backlinks can be obtained a number of ways, though a very popular—and very strong—way to start that connection is by working with PR and contributor ships in order to get content you've written mentioned in top publications, like Forbes or Entrepreneur. Yes, these places are more difficult to submit to, but these are things that your competitors are going after. Therefore, if you go after them, too, you can compete with them, and you can maintain your best digital marketing strategies.
You want to be doing things that real companies would do, so if you're going to spend time and invest in your brand, link building is an excellent way to start. Additionally, when you build these links over time, your website is going to become a strong resource for your content.
Because of this, your website can end up ranking for pretty much anything due to the fact that every content page you put up is full of valuable and high-quality information. By using SEO tools, you can also see where your competitors are bringing in the more traffic. From there, you can generate a strong idea of what content you should be creating, the best digital marketing strategies to use, and what topics you should be focusing on.
2: Using Freelance Writers Effectively
When trying to get your name in articles, you want to make sure you avoid being schemed. By using a freelancer website from an independent PR firm instead of a larger firm that'll cost you more than they're worth, you can find someone who will not only over deliver on their content, but someone who can improve your best digital marketing strategies.
The tip for writing these articles, however, comes down to the type of article you want and how good the headline is. Research has found that list articles, or "listicles", attract the attention of contributors and magazine editors very quickly. Therefore, your article should be based around a list of things that anyone can do to improve some facet of their online marketing experience. After the article has been drafted, make sure to contact these editors to see if they're interested in picking the article up, and an overwhelming amount of the time, they will be, as these links are extremely valuable.
Most importantly, however, is making sure that you're not going through a website that promises an inexpensive alternative. By posting these projects on freelancing websites that specify what you're looking for, you're ensuring that you get a better deal than anywhere else. Freelancer websites usually operate on the basis of a review system and don't allow you to pay the writer directly when the deal is made.
Freelancers might try to get you to work around the system for that reason, and you must always say no! It's a setup for disaster, and it won't bring you any success with your best digital marketing strategies. Instead, focus on the reviews of the writer. Since this website operates under how good of a job other people think they did, it's more likely that they'll give you exactly what you're looking for and then some.
With the content you create, however, you must make sure that it's exclusive to whoever you're writing it for. Some websites won't mind if you rewrite and reuse an article you've already written, but you must make sure that it's different enough to avoid getting scraped up by plagiarism software. A lot of publications want an article from an expert, after all, so making sure that you've written these articles from a personal perspective is a surefire way to show you are the expert you've claimed to be.
3: Make Sure To Get Reviews
Maybe the most important part of cultivating your best digital marketing strategies revolves around getting reviews for your business. The last thing someone does before they submit their information to your website is searching for reviews of your business as well as complaints people may have.
Those brief moments of scrolling through reviews are the time where you want to tip them over the edge into completing that transaction. Therefore, it's important to get the customers that are already happy with your website and with your business to post reviews on Google, Yelp!, or whatever review platform fits your business best.
These sites rank extremely high on search engines, so your positive presence on them is substantial to your success. The key is to contact your customers through your own internal system first: start by sending them an email, and ask them to give your website a star-based review in terms of service, productivity, and efficiency. Then, if they come back with a 5-star review, send a follow-up email asking if they'd be willing to post that 5-star review on a third party review website.
You can even send them an email complete with links to a variety of review sites in order to minimize how much effort they have to put in! Additionally, you can also provide them with the review they initially wrote, making sure that they know what made them so happy in the first place. If people are truly happy with that you've done for them, they'll post these reviews with ease, without a second thought, and sometimes on more than one website. These positive reactions will certainly bolster your credibility, as well as your best digital marketing strategies.
Best Digital Marketing Strategies: Reach Out Effectively, and You'll See Results
In the end, utilizing the best digital marketing strategies comes down to building successful relationships with people in your field, as well as working to expand that bubble of connection up the ladder. By putting your name out there and working with other experts as well as people on top of the online marketing game, you're making a statement that you, too, can compete with the best of the best, and you can win.
Additionally, the best digital marketing strategies rely on quality content, a concept that bears repeating over and over again. By writing what your audience wants to know about, you can ensure that your relationship with them will grow, and your business will flourish with people who are happy with the content you're producing, as well as what your business has to offer because of it. Make sure you cultivate your relationships, unabashedly climb your way to the top, and give people some reciprocity for what you do. By maintaining a professional reputation, you're making a statement that people will certainly want to hear!