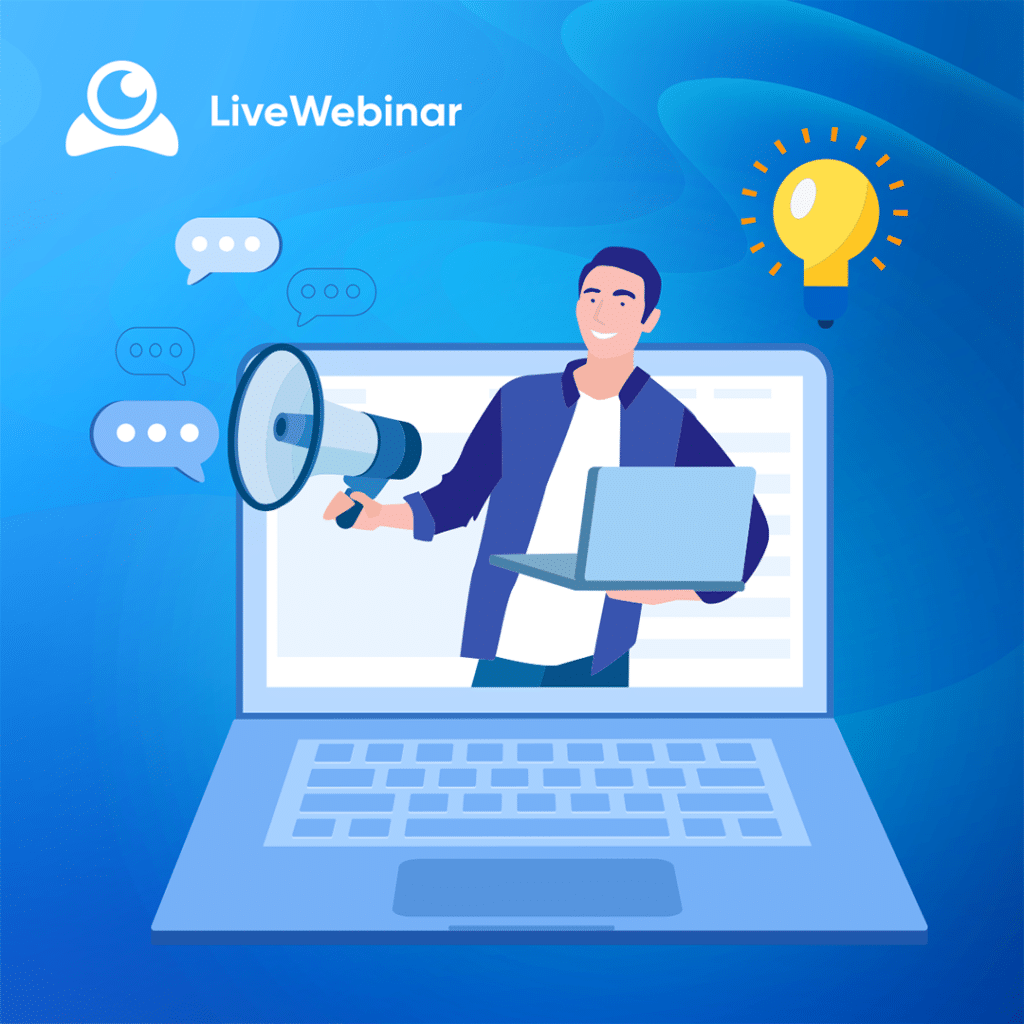 Hosting your first video conference? Need to talk with business partners from abroad without leaving the office? Or are you just having a team meeting? No matter what your purposes for communication are, LiveWebinar has you covered. 
What exactly is LiveWebinar?
LiveWebinar is an advanced webinar software, capable of doing the job of multiple platforms in one convenient package. It's a platform designed to make day to day business and company communication easier and faster. How? Read on and find out!
What can it offer you?
Ease of use. Tired of downloading plugins or programs that clutter up your computer and waste precious time when your business meeting is starting in two minutes? With LiveWebinar you don't need to worry about that. The whole experience is browser-based (with major browsers being supported) and the platform's interoperability means that you join or host webinars from any smart device. 
A key pillar of LiveWebinar is customization. All plans offer the possibility of customization, it's just a matter of degrees. In basic plans, the user can brand their meeting room with their colors and logo. For users who want more, a white label offer exists (more on that later). Play around with the interface of the room – you can also switch between a webinar interface template (you'll see a sharing screen, list of participants and a chat, the layout of this can also be modified) or a meeting interface template (think Google Hangouts) depending on your needs. 
Another element that can be customized by the user is room security. If they so choose, they can password or token protect their rooms, lock, and unlock their room. This is covered by waiting room feature (participants have to knock to get in, the host decides when and who to let in). This point offers a nice segway to another pillar of LiveWebinar: security.
The platform has multiple layers of security, offering a peace mind to its users (if you're looking for a lot of security jargon – read on!). The platform utilizes industry-standard encryption (SSL and HTTPS), and all communications are established through 256-bit TLS encryption. LiveWebinar provides double encryption during meetings via end-to-encryption thanks to the use of the Advanced Encryption Standard (AES) 256-bit algorithm. The platform is fully GDPR, Privacy Shield compliant. User authentication is performed via single sign-on, which works via limiting access to meeting data by giving only one user ID and password per attendee. 
For users who looking for something extra, LiveWebinar offers a white-labeled option. With a white-label platform, the client creates a bespoke webinar platform (with the help of the LiveWebinar team) which is based on LiveWebinar, but with the client's branding and under their domain. Every aspect of the platform can be customized to the user's needs – from the user roles to the branding of the dashboard – everything is under the client's control. 
In terms of features, with LiveWebinar the philosophy is "the more, the merrier". Over 50 features are available to users, all added for the purpose of making webinars more interactive and engaging. Features include polls and tests, whiteboards for taking notes or driving points home, breakout rooms to facilitate interaction between attendees, presence manager, streaming to Facebook, Vimeo, and YouTube, plus plenty of other features.
For features that LiveWebinar doesn't include, it offers plenty of integrations, whether you're looking to include email, marketing or payment tools, integrations with Zapier, Integromat, HeySummit, Mailchimp and more will be at your disposal. Also available are REST API and webhooks integrations. With the help of integrations, you can ease your workload and free up precious time for other matters. 
As a host, you can establish roles for your users, as either a presenter or attendee, with each having different privileges within the meeting room. It's also possible to record your webinars, creating evergreen (and easy to monetize) content that will be accessible long after your live webinar is finished.
What can I use LiveWebinar for?
Just because "webinar" is in the name, it doesn't mean that LiveWebinar is only for hosting webinars or video conferences. Thanks to the platform having a meeting room layout available, it can be used for calls between colleagues, or business partners, anytime there isn't a lot of information needing to be exchanged. That being said, leading team meetings, recruiting and onboarding new team members, generating leads and improving sales pipelines, creating webinars that sell like hotcakes, or teaching students via online classes and courses are all examples of use cases for LiveWebinar. The sky's the limit here!
As with all products, there are always some positives and some negatives, so to sum up LiveWebinar, here's a list of pros and cons of the platform:
Pros
:
Data privacy and security

are at the highest level. Compliance with various privacy agreements (GDPR/RODO/Privacy Shield) is in place to ensure that information exchanged during meetings is protected. Users can control room security via their own measures (locking/unlocking the room, use of waiting rooms, and implementing password/token protection of the room). 

Interoperability and ease of use

– all smart devices and major browsers are supported, and no downloads or plugins are necessary.

Room

branding

– user can update their meeting room with their logo and colors.

A

white label

option is also at hand for users who want a fully customized platform based on LiveWebinar, but with personalized features and under their own domain.

Meeting

room templates

can be changed depending on the type of meeting the user wants to conduct, from a webinar layout to a meeting layout similar to Google Hangouts.

Over 50 interactive

features

are in place to help hosts increase attendee engagement and learning during the webinar.

In-depth

reports

are offered at the end of webinars. 

Integrations

with Zapier, Integromat, and other platforms are in place, REST API and webhooks integrations are also available.
Cons
:
Some users report that there's a slight learning curve to getting around the meeting room before going live for the first time.

Lack of a built-in landing page creator or payment processor (however integrations like ie HubSpot or HeySummit make up for that)

At the moment screen sharing is not available for the Safari browser. 
Pricing
: 
LiveWebinar offers a free 14-day trial, after that, the user can choose to go with one of three packages, depending on their needs:
PRO

: starts at $14.99/mo, offers up to 100 participants and standard features: the

whiteboard, 6 hours of storage for recorded webinars, sub-accounts, branding tool and more. 

BUSINESS

: starts at $119.00/mo, has up to 500 participants in its offer, and more advanced features:

room presence manager, mass invitations, full HD recorder & recording editor, and storage shared with sub-accounts. 

CUSTOM

: pricing depends on the elements of the plan selected by the user, they can elect to have up to 1500 participants, and features/add-ons such as breakout rooms. 
With the purchase of a yearly subscription, LiveWebinar offers a discount of 20% off per month at checkout. A White Label offer is also available. To get more info, check out LiveWebinar's pricing. 
Conclusion:
If you're looking for a platform that works like a Swiss army knife, LiveWebinar could be a good fit. Its offer of innate versatility, ease of use, and high level of security and price make it a competitor with other webinar services on the market today. Whether you're looking to teach, recruit new coworkers, generate sales, or just communicate with your team, LiveWebinar has you covered. To learn more, go to LiveWebinar. Happy (live) webinaring!