Everyone likes the concept of free marketing ideas but are afraid to put them into practice. No such thing as a free lunch, right? I'm here to tell you that free marketing ideas are just as valid as those that cost money. The distinction is in how you use them.
We're often taught that the more money you spend, the better results or product you'll receive. But if you've paid any attention as a business owner, I'm sure you know that isn't true. These free marketing ideas need to be looked at individually, on a case-by-case basis. We need to break them down and talk about how to make them work for you.
Of course, it isn't just free marketing ideas that need this sort of analysis. As I said, the amount of money you spend doesn't necessarily guarantee effectiveness. You should be doing this sort of breakdown and analysis with all of your marketing methods.
That said, it's especially important for free or inexpensive marketing approaches, due to the inherent stigma. Many of us expect free marketing methods to simply not work. If we can dig in and explain how to use them effectively, your chances of success increase.
Today, I'll be talking about offline/online marketing, tapping into local community resources, sticking to a schedule, and more. I'll also be referencing my recent podcast interview with Debra Jason. Debra is a copywriter, author, and public speaker, with some knowledge of marketing under her belt. Debra and I talked a lot about free and inexpensive marketing methods that she personally uses.
This article falls under the second "C" of The CLICK Technique: "Cultivate". All of these free marketing tactics and ideas exist to help you grow your business and your consumer base so that you can make the most of your online marketing. To do that, you need to know how to use inexpensive marketing methods in a way that works. I'm here to give you that info. So let's get started!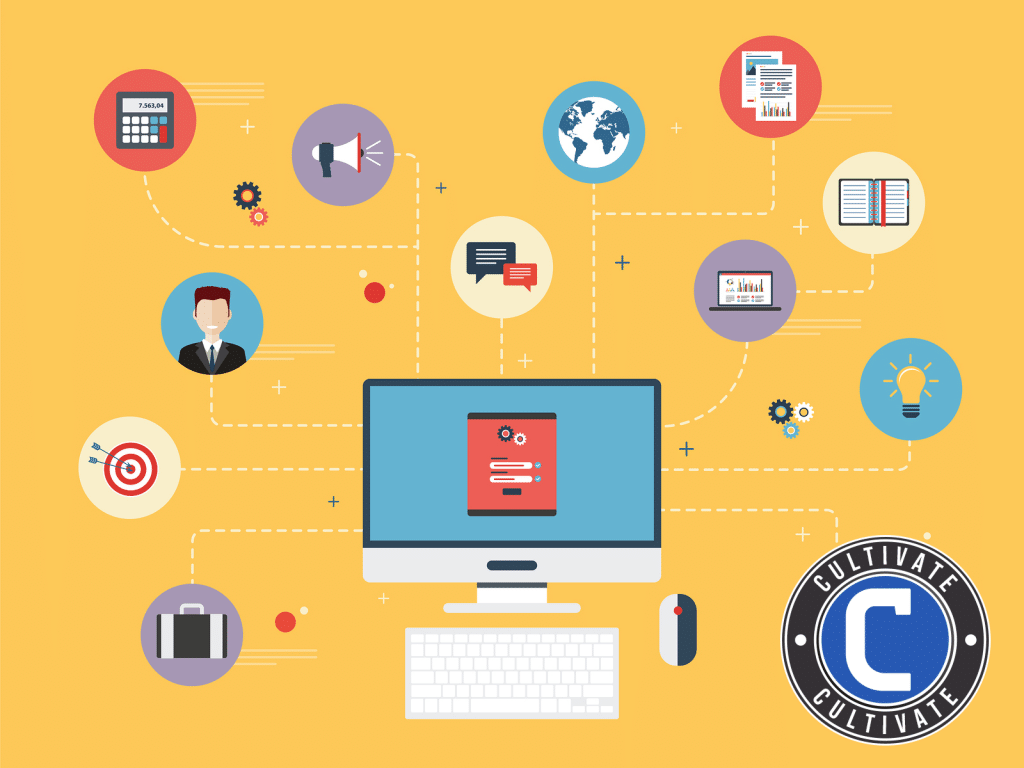 Free Marketing Ideas Can Be Found Online or Offline
Let's put another common stigma to bed. Free marketing ideas can be online or offline–both are effective. There's a growing concern that offline marketing is dead now that the internet has come around. Far from it! You should be integrating both into your marketing strategy.
When possible, online ideas should be paired with offline connections. When was the last time you used a letter to touch base with a client or customer? Have you tried printing fliers, posters, or handouts with your website and social media links on them?
Don't be afraid to hop the fence and change your medium. If you're an online business, try using some offline approaches to marketing. If you're a purely brick-and-mortar type business, provide some online purchase options.
The most important element of blending offline and online strategies is to change your game plan. Start from the ground up with the mindset that offline and online marketing is just marketing. Don't segment the two branches! Keeping your marketing areas together is the first step.
This is crucial when it comes to any kind of marketing ideas, but especially free or low-cost ones. You'll need to be flexible with your approach as you work through the rest of the list. So keep your head in the game, but your mind open.
Free marketing ideas can really only be harnessed properly when integrating online and offline marketing approaches. I recently wrote an entire blog post on the subject, so check it out if you want to dig in deeper.
Use Online Marketing Effectively
Now, let's talk about using free marketing ideas of the online variety. There are almost as many online marketing ideas as there are people, and many are free. Today, however, I'm going to talk about the most effective ones and how you can harness them properly.
Video marketing is on the rise. Videos can be prerecorded or live, and you should consider experimenting with each approach. Cisco recently noted that 69% of all traffic by consumers is related directly to videos. What's that mean for those looking for free marketing ideas? It means it's time to get comfy with video tech.
If you have a cellphone, recording video is simple and free. Head to a platform that allows for live streaming, such as Facebook, and get prepped with something to say. It's a social media based approach to public speaking. Announce a new product release or book release, explain a concept or idea you specialize in… the sky is the limit.
Which leads me to the topic of social media. Getting a social media account is always free, and it's one of the easiest ways to market yourself. When people are interested in keeping up on the news from a business, they'll go hunting for social media to follow. Do yourself a favor and make sure there's something to find when they go looking.
If you don't have a website, get one. Get a blog. I talk a lot about how to blog effectively in my recent blog post (ironically). It's called "DIY Online Marketing: How to Succeed When Doing It Yourself"–check it out if you're unsure where to start with your blog.
And, lastly, you should have a newsletter on your website that people can sign up for. Being able to keep in touch with people will ensure they don't forget about your business. I discuss some of the best newsletter practices on my recent blog post, so check it out.
Tap Local Community Resources
Everyone lives somewhere… and if you're anything like most people, you'll live in a community. Whether it's a city or just a town, you can use your community as an integral part of your marketing strategy. Best part? There are plenty of free marketing ideas floating around your local space, ripe for the picking.
Get yourself some free business cards. Search for them–there are a multitude of companies that will print you a few hundred as a free sample. Once you have them, start passing them out. If you don't have people to give them to, drop them in key locations around your community. People will find them, and they'll look you up.
Debra Jason, whom I recently interviewed on my podcast, stressed the importance of public speaking as a marketing strategy. She talks all about how speaking publicly built a rapport with her audience, who then proceeded to buy her books. And she didn't need to spend a dime. She simply asked around the community to see if anyone wanted a public speaker at an event.
The most fun of my free marketing ideas is this: be a part of your community. A lot of us lock ourselves away in our homes or offices. Break out of your shell! Be seen, and represent your business while you're doing it. People will remember you. If they become a customer, they'll be incredibly loyal ones!
Focus on Giving
Of all of my free marketing ideas, this one is probably the least tangible. Doesn't make it any less important, though, so listen in close. In order to marketing effectively, you need to give something of value.
Now, this may sound familiar. The strategy is the same one as having a successful business: you have to sell something people want. Makes sense, right? But where does it fit into marketing?
Just like your product, you want your marketing strategy to be all about giving people what they want. This provides a natural succession that people will be hooked on. If you can prove that you know what customers want and are willing to give it to them, you'll garner their interest.
When using the previously listed free marketing ideas, go in with the mindset of giving. Apply it to the entirety of your marketing strategy. Give of your time. Give of your expertise. Even, in this case, where you can't give things that cost physical money, give out things of worth.
You're fishing for customers; put the best bait on your fishing line, and you'll pull in the best customers.
Free Marketing Ideas Only Work If You Stick With Them
You've got some free marketing ideas under your belt, and you're ready to dive in and use them. Hold back and stick with me for one more second. There's one more idea that I need to pass by you. It's the one that's most commonly ignored by business owners. I've said it before, and I'll say it again: when you commit to a strategy, stick with it.
That means digging into a strategy as far as you can and trying everything. Have a newsletter with a decent list of people? Don't give up on sending out regular newsletters! And make sure you're sending them out frequently enough. Once a month isn't going to cut it.
Now, I'm not saying you should keep committing to a strategy that isn't working. However, you shouldn't bail ship immediately when numbers aren't as high as you might like. Stop, pace yourself, and take a look at why a strategy isn't working. Trying tweaking a few things, and see what happens. It might be that your approach is slightly skewed and needs adjustment.
Whichever of these free marketing ideas you choose to use, make sure to keep at it. Don't give up, or you won't see the return on your time investment. No marketing method is easy, but even the free ones can show results if you keep at it.