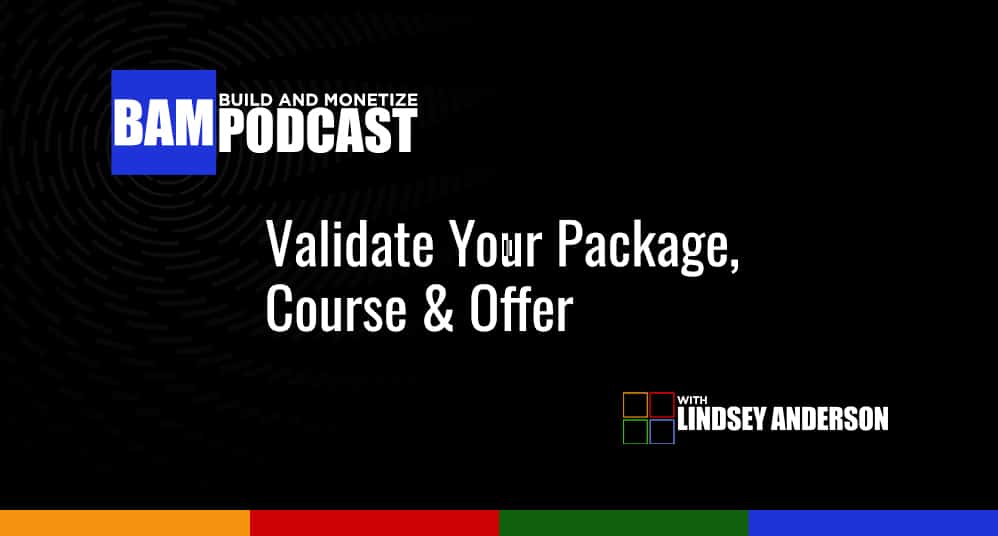 Many entrepreneurs have wasted their time, money, and energy building a product that did not sell. As a coach or a consultant, you cannot afford this loss. A failed product will lead to feelings of frustration and failure, and even burn out. This can be prevented.
While your product or service will work in the real world, you must validate your idea, package, course, or offer before you launch it. Why is this validation so important? Simple. You need real, hands-on feedback that will help you make a better business decision. You need to offer products that your client base desires.
Validating Your Package, Course, and Offer
In this new and informative episode of our podcast, Lindsey talks about the importance of validating your product before launching. Even if you can't wait for people to see how brilliant your product is, you need to stop and go through this all-important process to avoid wasting your time, money, and energy building this product that no one is drawn to.
In This Episode You Will Learn:
The reasons why you need to do a package, course and offer validation. All of them are necessary for your coaching or consulting business.
Why you should understand the importance of validating your product so that it will save you time and anguish developing a product with whom nobody is interested.
The four reasons why you don't want to validate your product as follows:
We think we know everything and we make assumptions. When it comes to coaching and consulting, we never know enough.
We are in a rush to launch our product. When it comes to your coaching business, slowing down to make sure your product will sell is vital.
You don't know-how. There are many technologies and methods for validating a product. It can be overwhelming, but it is important to become knowledgeable.
A combination of all the above. We know what we are doing, we are eager to launch, and we don't know how to validate our product all combine, making us not want to validate.
Validating your product doesn't have to be painful. Lindsey will guide you along the way regardless of where you are at your coaching or consulting program. Don't let fear get in the way of your business's potential!
Like what you heard? Get more value from Lindsey by subscribing to this Build and Monetize Podcast and leave comments below. Follow Lindsey Anderson on Instagram and see her stories; it will give you an idea or two on how to approach this platform. Finally, go to Steal My Funnel to know more about how to build and monetize your coaching business.
Links that are mentioned in this episode:
Want to know more about Lindsey and the services mentioned in this episode? Find out more info about everything she discussed today on any of the links listed above.
Subscribe To The BAM Podcast
[podcast_subscribe id="8572″]