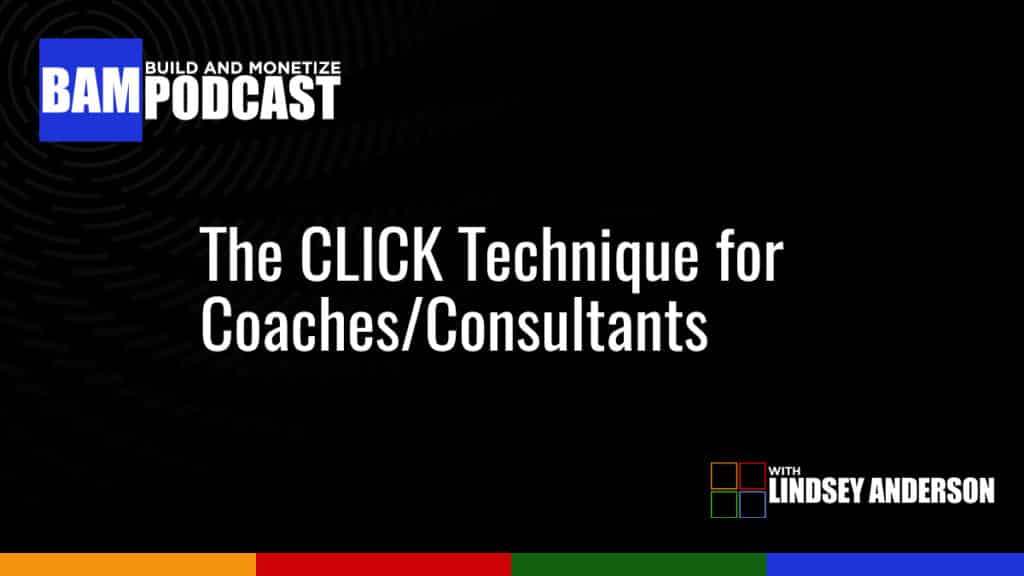 Do you want to know how to produce an endless stream of online traffic and leads? Do you want to tap into the power of the internet to drive traffic into your coaching business? It would be best if you learned about The CLICK Technique.
You can find many online marketing strategies available on the internet, but they are too generalized. None of them can accurately tell you how to craft a plan of action for your coaching business until you learn about The CLICK Technique.
The CLICK Technique for Coaches/Consultants:
In this episode, Lindsey Anderson will discuss a brief overview of The CLICK Technique. Based on her bestselling book on Amazon of the same title, this technique can help you create a robust digital marketing foundation that will change your business for a long-term and sustainable income stream. With this revolutionary technique, you can create an online marketing system that will give you a clear direction and motivate you to persevere towards your goal.
And there's more. The CLICK Technique just got even better. Lindsey Anderson gives a taste test of her upcoming book about the revised edition of the book, specifically on how to apply this book to your coaching business.
In This Episode You Will Learn:
The theories and actions behind The CLICK Technique, which you can apply to your coaching and consulting business.
The basic framework for The CLICK Technique is what the book all about and what this acronym stands for.
Lindsey will teach you how digital marketing is done and will demystify some critical marketing strategies.
She will teach you how you can apply this technique to your coaching so that you can have more money, more freedom, and more impact to a lot of people.
If you have not read The CLICK Technique, you better read it now. Also, if you want to build and monetize your business, have an evergreen lead machine setup, and working for your business, make sure you head over to StealMyFunnel.com. Sign up to Building an Evergreen Lead Machine for your Business today and learn more. Check the link below and let Lindsey and the Traffic Leads Team help you.
Links that are mentioned in this Episode:
Want to know more about Lindsey and the services she said during this Episode? Find out more info about everything on the links listed above.
Subscribe To The BAM Podcast
[podcast_subscribe id="8572″]