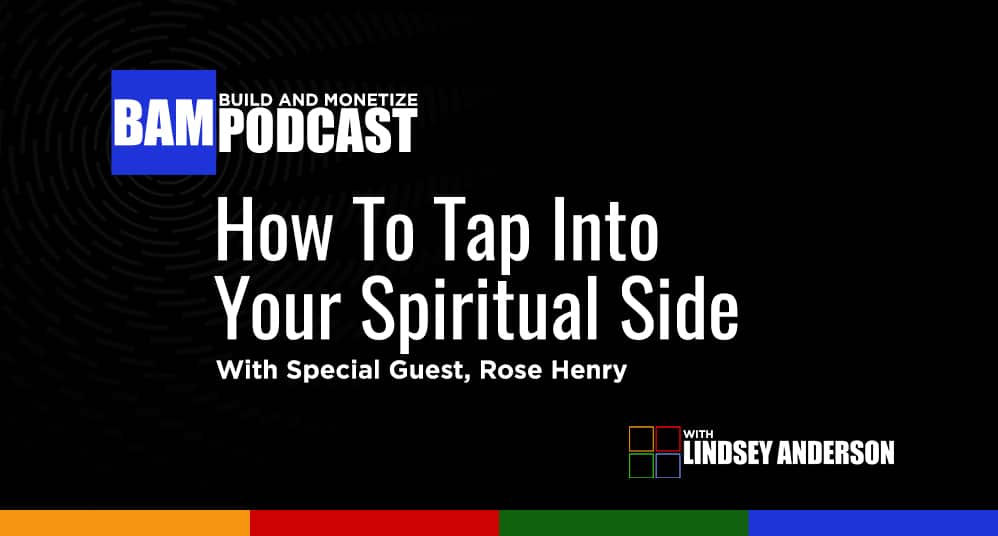 "We're all just chunks of energy." This is the approach that Rose Henry takes to life, and through it, she's developed an incredible sense of spiritual balance. As an Intuitive Coach, she wants to help others do the same, helping them let go of the past, become less self-critical, and allow themselves to make the world a better, happier place.
How To Tap Into Your Spiritual Side with Rose Henry:
In today's episode of the Build and Monetize Podcast, Lindsey brings on special guest Rose Henry, founder of Intuitive Holistic Services, to give her spectacular insights into spirituality, tapping into our "unique energy," and taking a more holistic approach to our personal and professional lives.
In This Episode You Will Learn:
How to tap into your spiritual side, which offers a unique, introspective look while providing insights into how the people around you operate. "After all," Rose says, "we're just chunks of energy."
How to move forward by letting go of the past. Living in the present is the only way to truly live.
What taking a more holistic approach to life is like. Rose gives amazing insights into how all of our experiences—both good and bad—are valid and ultimately essential to who we are.
Our "sixth sense." What it is, how to use it, and the ways we can make the most of it in all aspects of life.
How to remember to breathe: an important lesson forgotten all too often.
As an Intuitive Coach, Rose is an expert in helping people become more in tune with themselves in all aspects. Her realistic, down-to-earth approach to spirituality is what truly makes her stand out, and every conversation with her is an exhilarating, enlightening experience. Follow the links below to learn more about Rose and her services!
Links Mentioned in This Episode:
Eager to know more about Rose, her services, or any of the aspects of spirituality that she discussed during this episode? Check out the links listed above to get all the info you need!
Subscribe To The BAM Podcast
[podcast_subscribe id="8572″]