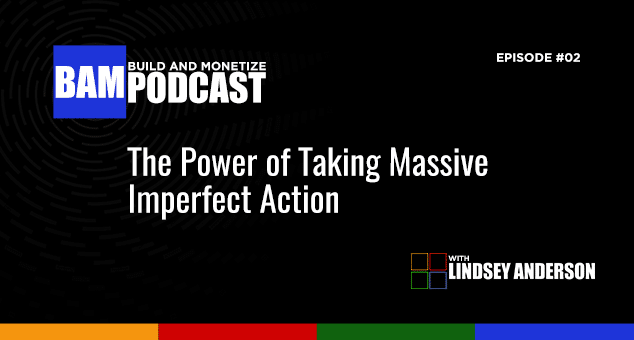 Taking Massive imperfect action is a popular term in the digital entrepreneur world, and whether you're new to the business or not, you've likely experienced it. Even the most seasoned of digital entrepreneurs, coaches, and consultants have fallen victim to massive imperfect action at one point or another. When you're your own boss, it's so easy to fall into a cycle of perfectionism or to make excuses for not getting things done. It's difficult not to get caught up in your own mindset and fears.
Taking Massive Imperfect Action:
If you're experiencing feelings of anxiety or self-doubt regarding the advancement of your business, know that you're not alone! So many people have the same questions and fears that you do. Luckily, hostess Lindsey Anderson has some helpful advice to share about taking massive imperfect action in this week's episode. One of her favorite topics, Lindsey has curated some of the best strategies for moving past places of fear and tackling difficult aspects of your business.
In This Episode You Will Learn:
How to move past a place of fear and start tackling things in your business to take you to the next level. It's all about adjusting mindset. There might be other barriers you're facing, sure, but half of the journey is your mindset and how you let yourself continue forward. Lindsey gives you her advice on how to change your mindset when it comes to taking necessary steps and being bold with your business.
What self-doubt feels like. You're not alone in feeling self-doubt or feeling afraid when it comes to putting yourself out there. Feeling anxiety and wanting to avoid the cause is common, but there are ways to work around it. Sometimes it feels easier to do things to keep yourself safe, but that's not always the best option when it comes to running your business. In this episode, Lindsey discusses how to push yourself past the paralyzing self-doubt that can arise during your coaching or consulting journey.
Understanding your fears. This can be difficult! Fears and mindsets can be deeply ingrained and hard to shake, but that doesn't mean that it's impossible. Lindsey explains that once you understand your fears, there's a way to talk yourself out of them.
Realizing the importance of failure. Nobody likes to fail, but it's something that we all have to experience. You have to know that you will fail, but there are things to learn from failure! Lindsey talks about one of her favorite sayings "fail forward faster" and exactly what it means when it comes to building and monetizing your businesses.
Combating fear with action. Lindsey discusses how to spur yourself out of your self-doubt and fear and start taking action. It may seem like a big deal at first, but fear can be fought and beaten.
The importance of starting small. Even though you might want to, starting with big leaps instead of small steps isn't always the right choice. In this episode, Lindsey discusses just how important it is to start small when you begin to set goals for building and monetizing your business.
How to celebrate wins. It's good to pat yourself on the back every once in a while. It's easy for us to focus on failures, but even the smallest successes deserve a celebration. Lindsey talks about the best way to celebrate and remember your wins.
How to permit yourself to be imperfect. It's hard to not want to be perfect. When you're your own boss, you may find yourself holding yourself to a higher standard of perfection than usual. However, it's not always healthy or helpful to be such a perfectionist. Lindsey explains the importance of letting yourself be imperfect sometimes and how it will help you along with your building and monetizing journey.
Links Mentioned In This Episode:
Curious about Lindsey or any of the services that she talked about during this episode? No problem! You can find more info about everything discussed today at any of the links listed above.