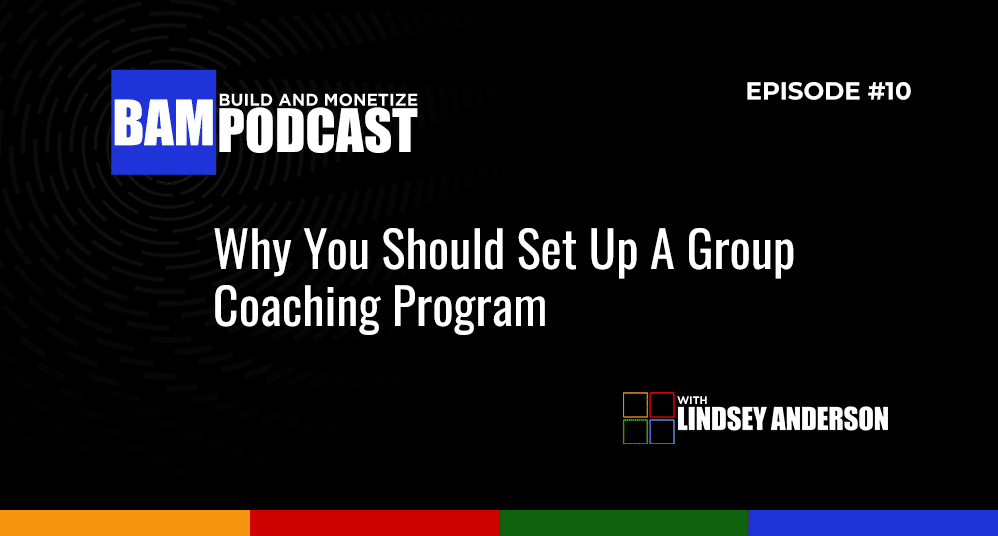 How can you make your coaching business grow when you have limited time? How can you make from a six-figure mark to a seven-figure mark? How can you take your business to the next level? These are the questions that most coaches frequently ask. The answer is group coaching.
If you want to build your business, have more time, more money, more freedom, and more impact, you need to consider implementing group coaching into your business. It allows you to scale your business, which you cannot do with one-on-one coaching. It can impact the sheer amount of people with limited time.
How to Design a Group Coaching Program
In this episode of Build and Monetize Podcast, Lindsey will talk about group coaching and why you should consider implementing it on your coaching business. Listen as she shares with you its benefits and how you can create an irresistible coaching program.
In This Episode You Will Learn:
Lindsey will discuss at length the five benefits of group coaching and how it will help your coaching business grow.
Don't know if group coaching is right for your business? Lindsey will also discuss the different coaching models that you can use.
Want to start your group coaching program? Lindsey got all the answers. Lindsey will talk about how to start one that will work for you.
Lindsey can help you build and monetize your business with an irresistible group coaching program. Join the Master's Program today and learn more. Check the link below and let Lindsey and the Traffic and Leads Team help you.
Links that are mentioned in this Episode:
Want to know more about Lindsey and the services she said during this Episode? Find out more info about everything on the links listed above.