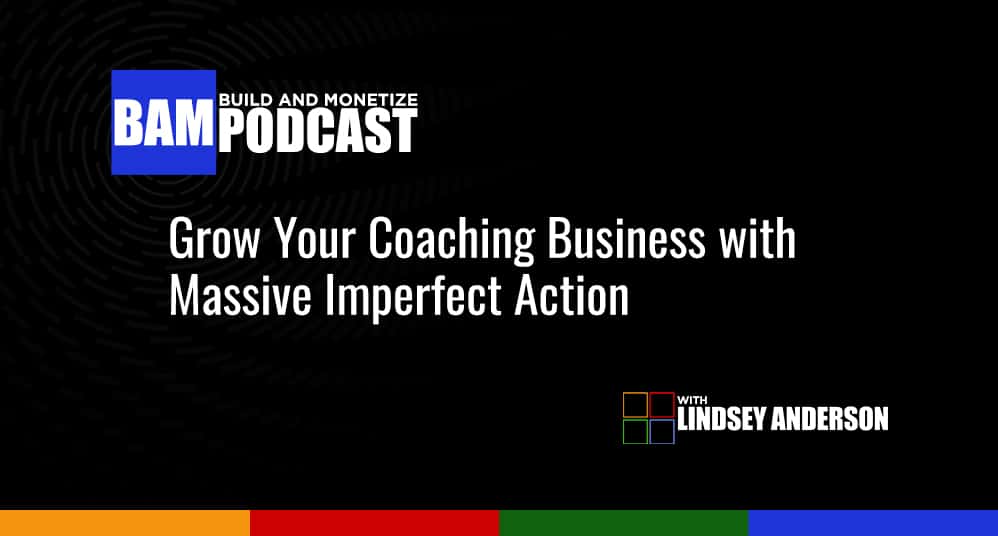 Perfectionism can kill your growth, but taking massive imperfect action will be the catalyst to your success.
We are always standing on the sidelines, waiting for the perfect time to act even though we have all the tools we already need to be successful. Standing still will not make you a successful coach or consultant. What will help you achieve success is taking imperfect action.
Taking Massive Imperfect Action
Why do we need imperfect actions to be our friend?
We are always afraid of putting ourselves out there because we are afraid to fail. As a coach, the fear of failure or the fear of imperfection cripples us. Everybody has experienced this – getting paralyzed by self-doubt, fear, anxiety, and overwhelm. These feelings will never disappear. Instead, what you need to do is understand these feelings and accept that you will never be ready.
In this episode of Build and Monetize podcast, Lindsey Anderson will help you to figure out how to take massive imperfect action instead of seeking for perfection. Her goal is to let you recognize that fear, push past it, take imperfect action, and achieve the success that you deserve. When you have harnessed this mindset, you can overcome your feelings of fear and doubt and set yourself on a path to success.
In This Episode You Will Learn:
Ways to overcome your imperfections.
How to reflect on why you experience these perfectionist feelings.
The reasons why are you unwilling to allow something to be imperfect.
The secret on how to overcome your fear and build your self-confidence.
Why failing is necessary to be successful.
Like what you heard? Want more? Are you looking for the secret ingredients to creating successful coaching and consulting business? Whether you want to know how to build your coaching business or looking for ideas on how to take your coaching business to the next level, join the Build and Monetize University. Check the link below and let Lindsey and the Traffic & Leads Team help you.
Links that are mentioned in this episode:
Want to know more about Lindsey and the services she said during this episode? Find out more info about everything on the links listed above.
Subscribe To The BAM Podcast
[podcast_subscribe id="8572″]