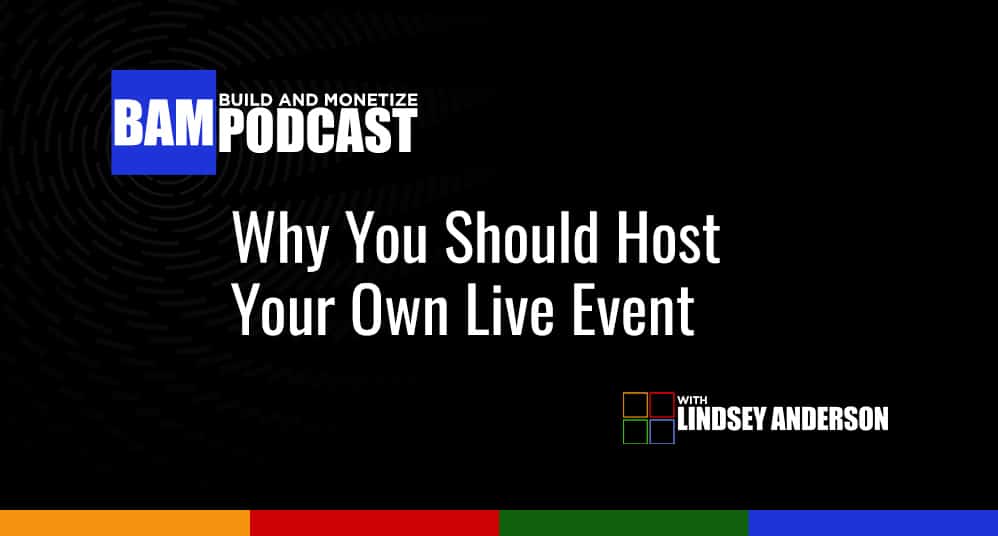 A live event can make or break your coaching business. That is a fact. Yet, most coaches have not realized the rewards of live events. This week's episode will fill you in on all the details of doing exactly that. From building your trust and credibility to having an audience witness your coaching, there are countless benefits to hosting your own live event.
Through a live event, a group of ideal clients will be gathered in one room, allowing you to offer them your services while they are highly engaged. Considering you are a coach that knows what they are doing, you can promote your coaching and consulting business to get more clients than you ever imagined.
Why Should You Host Your Own Live Event?
In the newest episode of the Build and Monetize podcast, Lindsey discusses the main reasons why you need to host your own live event. She will take you on a deep dive into why it's worth it to do all the work required to hold your own live event. Listen and discover how hosting an event will work for you and your business.
Live events can be small or large: a workshop, a retreat, or a conference. They come in all shapes and sizes. You don't have to approach planning your own event by trying to make it as big as possible. After you scale the event to your needs, the rest will work out.
In This Episode You Will Learn:
What a live event is and how it can help your coaching business. Even with the rise of digital technology and social media, live in-person events are still incredibly important.
How a live event can build your credibility and reputation as a coach and the benefits of that.
The main reasons why you should be planning on hosting a live event now!

Live events promote intimacy with your audience. You get to learn about their needs, fears, and their biggest challenges. In return, a strong bond will form and that will keep your online community together. Ultimately, this builds trust.
Provided that you plan your live event thoroughly, hosting a live event is an effective way to build your credibility, authority, and reputation as a coach.
A well-handled event can help increase your revenue as it is a great way to promote your services and attract more clients.
Through an event, after you build trust, you can earn expert status among your attendees. It will create more opportunities for you to have more speaking engagements as your event is your resume for future speaking engagements.
Hosting a live event does not have to be scary. Let Lindsey inspire you to have the courage to plan your live event and start creating your own opportunities!
Did you like what you heard? Get more value from Lindsey by following her YouTube channel or her Instagram. There are lots of exciting content going on there. Watch out for her upcoming event in September, go to Build And Monetize.
Links that are mentioned in this episode:
Want to know more about Lindsey and the services mentioned in this episode? Find out more info about everything she discussed today on any of the links listed above.
Subscribe To The BAM Podcast
[podcast_subscribe id="8572″]