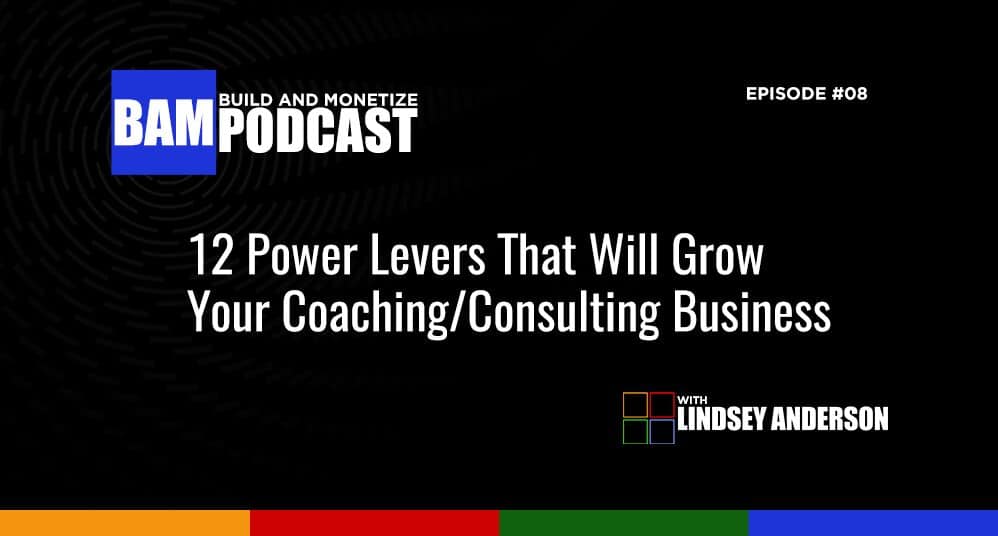 2020 is here and we have an amazing value-packed, fully loaded information-rich podcast to help take your coaching/consulting business to the next level. There are 12 Power Levers that you can use in your business to explode in 2020 with more leads and more clients. So be sure to take notes!
12 Power Levers to Grow Your Coaching Business in 2020!
In today's episode of the Build and Monetize Podcast, Lindsey teaches you all about the 12 Power Levers and how they will help you take your coaching/consulting business to the next level in 2020.
In This Episode You Will Learn:
Attract – Lindsey discusses the value of having a website and a social media presence. Other key items to attract your ideal client include using podcasts, writing a book, and hosting your very own live event. Lindsey talks about using Facebook Ads strategically to start having sales conversations with your perfect prospects.
Convert – Lindsey talks about the next step: nurturing the people that you attracted. She discusses the value of gaining the necessary sales skills to take these nurtured leads and convert them into customers.
Execute – Next up is how to take your business to the next level and scale. Lindsey outlines why you need to have a clearly defined business model, and how delegating to a team of people is a business game-changer. If you can build a team that believes in your cause and direction, nothing can take you to the next level more than people who are truly part of that mission. Lindsey also talks about automation and how this goes hand in hand with having a rockstar team to support your business growing exponentially. The final point of the podcast: the importance of accountability in your business and how it is crucial to help you remain consistent and exceed your goals.
If you are enjoying the podcast and receive value from what Lindsey shares, please subscribe and leave a review of the podcast! If you would like even more support and proven strategies for building and monetizing your coaching/consulting business, click the link below and request access to the FREE Build and Monetize University Facebook Community.
Links Mentioned In This Episode:
Curious about Lindsey or any of the services that she talked about during this episode? You can find more info about everything discussed today at any of the links listed above.
Subscribe To The BAM Podcast
[podcast_subscribe id="8572″]