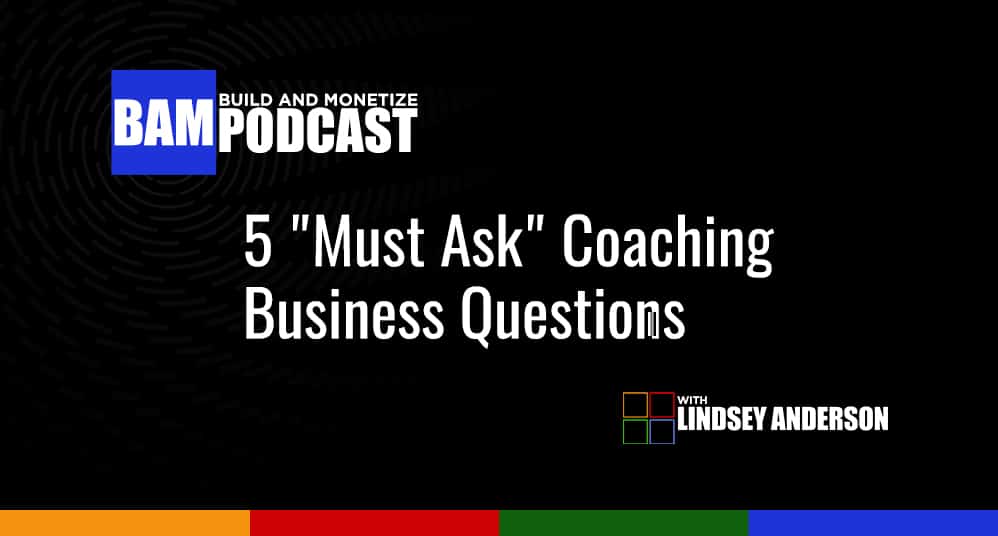 It seems that the crisis is far from over. As the coronavirus continues to unravel all across the globe, everything has come to a halt. All the businesses except for necessities are closed, and people are forced to stay at home. It is not good for all of us, but we've got no option.
What does it mean for the coaching and consulting business? As coaches, we are not stopping. We are not going under the coach and mope and whine. In the previous podcast, we have discussed the stages of dealing with the crisis. We passed that. We are now ready to take our business by the horns and figure out how we will ride this tide.
5 "Must Ask" Coaching Business Questions
If you have listened to our previous podcast, you now understand that for your coaching business to survive the crisis, you need to have a plan of action, figure out how you can help your clients, and bend to the needs of your clients. It may sound easy, but Lindsey knows that it's not. That is why she made this follow up on the topic.
In this episode, you will learn:
Lindsey will explain at length how you can make your business resilient to the new normal. According to her, the world has changed, and it will never be the same again. If that is so, how can you and your business adapt to these changes?
Another critical discussion that you should look forward to in this episode why coaching and consulting is booming in the time of crisis. We know that many readers here are quite skeptical about this claim, and Lindsey has a good explanation for this. It's really worth listening to.
Finally, she discusses the five questions that you should be asking for your coaching business. Using these questions, Lindsey will give you tips on how you can make your business not only survive the challenging times but come out winning. As a preview, here are the five questions;

With all that happening right now, how does it affect your business?
How can you offer your programs, when can you offer them, and what will your clients buy from you?
What are the steps that you should take today to position yourself and profitably serve your customers?
What are the steps you can take today to mitigate the risks to your company?
What are the significant opportunities that are waiting for you and your business?
This is an information-packed episode that you should not miss. With what's happening right, there is a silver lining. Remember that change has brought so many innovations to the world. And the same goes for your coaching business. By asking the right questions, it can help your business thrive even in the most challenging times.
Hang in there. This is the time for opportunities. Stay Safe!
Do you like what you heard? Get more value from Lindsey by regularly tuning to her Build and Monetize podcast and leaving your comments below. Join her Build and Monetize Masters to help you build and scale your coaching and consulting business.
Links mentioned in this episode:
Want to know more about Lindsey and the services mentioned in this episode? Find out more info about everything she discussed today on any of the links listed above.
Subscribe To The BAM Podcast
[podcast_subscribe id="8572″]