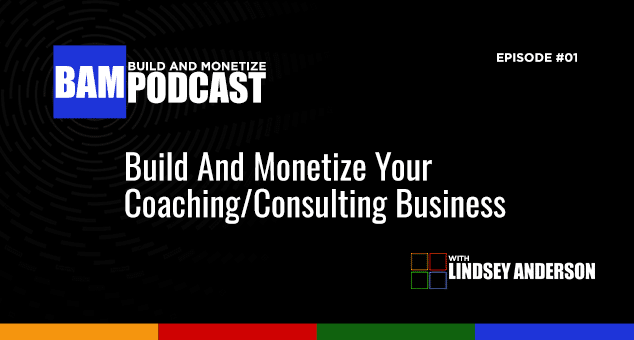 When it comes to building and monetizing your coaching/consulting business, things can get complicated. Owners of both large and small businesses often find themselves running into the same problem when it comes to expansion and taking things to the next level; it's hard to know where to start, services can get expensive, and it's easy to feel like you're losing yourself and your personal touch in the process. No matter if you're just starting out or you've been in the game for a while, everyone can use a helping hand from time to time.
How to Build And Monetize Your Coaching Business:
Thankfully, that's just what this podcast is for. Build & Monetize is here to give you useful information surrounding just that— Building and monetizing! Hostess Lindsey Anderson has been in the digital marketing game for many years and runs a coaching and consulting business of her very own, she's here to share her knowledge. This podcast is here to provide you with all the best tips and advice for advancing your business and finding your path to success.
In This Episode You Will Learn:
Learn all about this new podcast! Are you a marketing coach, consultant, digital marketer or entrepreneur looking to learn some tips and tricks on how to build and monetize your coaching/consulting businesses? Then look no further, this podcast is just for you! Every single episode in this podcast will all be designed specifically with listeners like you in mind, providing new tidbits of information to help you market and manage your businesses. Listen along to learn all of Lindsey Anderson's tips, tricks, and advice for expanding your business and paving your way to success.
Get to know your hostess, Lindsey Anderson! You might have known her as One-Click Lindsey, but she's grown into something bigger and better. Whether it's you've been listening to her podcasts for a while or this is your first time listening in, come and get just a little more familiar with our hostess. In this episode, you'll get to learn just a little bit more about Lindsey's and all of her fantastic career accomplishments.
Learn about all the ways that Lindsey can help you! Do you have more questions about building and monetizing your business? If you feel like you might need a little more one-on-one help or you're looking for some extra guidance when it comes to online marketing strategies, Lindsey has a few other resources to offer. When it comes to building and monetizing your business, the journey can be long and expensive—not to mention confusing! Thankfully, it doesn't have to be that way. In this episode, Lindsey discusses all of her unique and affordable services that are available to you, the listener, to help you on your digital marketing journey. If you want to feel empowered while learning how to build and monetize your business, Lindsey's Build and Monetize Master's Program or Build and Monetize University might be for you.
Links Mentioned In This Episode:
Curious about Lindsey or any of the services that she talked about during this episode? No problem! You can find more info about everything discussed today at any of the links listed above.